Here's the Van Halen News Desk's extensive tribute to Van Halen's third studio album Women & Children First, which was released 42 years ago today…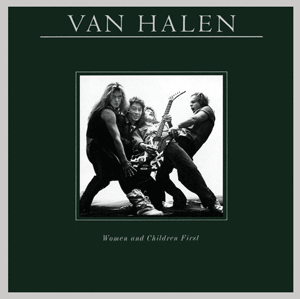 | | |
| --- | --- |
| Release Date: | March 26, 1980 |
| Recorded: | December 1979 – February 1980 |
| Length: | 33:13 |
| Producer: | Ted Templeman |
| Preceded By: | Van Halen II |
| Succeeded By: | Fair Warning |
Track listing:
"The '80s is it, it belongs to Van Halen."
– David Lee Roth, 1980
"I love it. I think it's our best one yet because it's got more variety. It's not too guitar dominated; it's just got a little bit of everything on it. It's got acoustic, it's got piano, it's got the ball-bustin' rock. It's got it all."
– Eddie, on the verge of the album's release.
---

Never-before-seen lyric sheets!
We have unearthed David Lee Roth's handwritten lyrics for every song on the album.
View these lyrics by clicking on the song links at the top of this page.
---
The real "Van Halen III", Women and Children First, is the third studio album by  Van Halen, released on March 26, 1980.
The instrumental tracks were recorded in four days and the vocals added afterward in six days. Inside of a week later, they had a finished record. "I don't think we'll ever be confused with Fleetwood Mac or Steely Dan, who spend jillions of dollars and years in the studio just to make one record," Roth guffawed in Hit Parader. "How boring can you get, man? I like to think that all we're really trying to do is capture some of our youthful enthusiasm."
The record benefited from three magnificent tracks on side one: the slow-motion power anthem "And the Cradle Will Rock…," the explosive "Everybody Wants Some!!," and the frisky "Romeo Delight," which became the band's new show opener. Notably, for the first time there were no cover songs.
The powerhouse opener, "And the Cradle Will Rock…," featured the band's first use of keyboards, an old Wurlitzer disguised by bristling distortion that came from playing it through a Marshall guitar amp. No longer allowed the endless club dates that had honed their past material and defined the songwriting process, Eddie and Alex played the main riff to the song together in Dr. Roth's basement two hours a day for two weeks to fuse the feeling in all the right places. "Cradle" was the only single released from the album. Although the single was not a success like previous singles "Dance the Night Away" or the cover of "You Really Got Me", the album itself was well received and further entrenched the band as a popular concert draw
"Everybody Wants Some!!" was a hymn to horniness, with Roth launching off-the-cuff into some trash talk directed toward a woman visiting the studio control room. The song was also a concert staple through the 1984 tour and continued to be played by David Lee Roth after he left Van Halen. The song's subtext was the band blowing off steam about a syndrome they were experiencing of former friends, rivals, and complete strangers hitting them up for handouts. Onlookers saw the silver outfits and limousines and started thinking about what they could get from Van Halen. While the band had recently played L.A. Forum, for example, some scheming stoners had broken into Jan and Eugenia Van Halen's house and stolen two dozen framed platinum albums, thinking the awards were cast from precious actual platinum.
Still dipping into the fertile songwriting well of their formative years, "Fools" was a thumping track that had been with Van Halen since before Michael Anthony. The early demo had character, but it was easy to see why it had been passed over on the first two albums. For the Women And Children version of "Fools," they added a killer intro and outro, which really improved the song. Another early track resurfacing was "Take Your Whiskey Home," which the band had already recorded as early as 1974–one of the first songs Michael Anthony learned.
Moving beyond his former heroes Eric Clapton and Jeff Beck, Eddie now championed the playing of jazz-fusion virtuoso Allan Holdsworth, whose slapping technique was predicated on funk. Eddie had maxed out on speed and flashy technique, and was trying to push his playing in more subtle ways. "I ain't no extrovert," he said. "I'm a quiet person. That's probably why I do all these weird things on guitar."
"Tora! Tora!"–which Eddie had wanted to call "Act Like It Hurts"–began with backwards guitar before lurching into a Sabbathy dirge that introduced the spastic "Loss of Control." Though Eddie had written the music the same day as "Ain't Talkin' 'Bout Love," Roth's lyrics were still incomplete, so he improvised a helicopter pilot transmission at the start of the song. MTV was more than a year away from launching in the States, but the band produced a strange concept video for "Loss of Control" in Europe with Roth vamping onstage in a hospital gown and white gloves, groping and grinding with a pretty young nurse. The rest of the band wore green surgical scrubs (see left), and Alex had X-ray films taped all across his drums. You can watch the video here.
Templeman suggested that Eddie use a guitar slide for "Could This Be Magic?" creating the old-timey bottleneck sound that made this original song sound like a traditional sea shanty. David Lee Roth, whose parking-lot fingerpicking skills remained unsung, joined on second guitar. This neo-skiffle treat also featured harmony vocals by former Linda Ronstadt session vocalist Nicolette Larson. She was repaying a favor, as at the end of 1978 Eddie had stealthily recorded a guitar solo for her hit Nicolette album against Roth's wishes.
The album ended with an untitled twenty-second muscular vamp after "In A Simple Rhyme" that the band referred to sometimes as "Tank" or "Growth." If the band was not rushed to finish the album, the mystery riff would probably have been developed into a full song. Instead, the idea was to let the riff fade out, then start the next album by fading it back into a full song–a plot that was never hatched.
The guitar pictured on the album cover was the Ibanez Destroyer lent to Eddie by local Pasadena guitarist Chris Holmes, later of W.A.S.P., made from highly desirable and resonant korina wood. Not by coincidence, the guitar was a great stunt double for the instrument Eddie used to record most of Van Halen–which he had inadvertently wrecked by sawing halfway apart. Holmes had bought the Destroyer in the first place to emulate Eddie. "When I got it back," Holmes told The Inside, "the bridge was turned around backwards and all that intonation. It was just backwards to the way I would have had it. I just don't see how he played it that way, but he did. I've been to a few Van Halen shows and I put on Ed's guitar and it's just the complete opposite of the way I set up mine. He'd have the strings about a mile off the fret board. He likes his whammy bar so loose that he Super Glues the nut on the back so it spins around."
Most Van Halen fans first saw a black-and-white image of this Ibanez Destroyer on the cover of 1980's Women and Children First. Its pickguard was removed and it was heavily modified with a Les Paul-style volume knob, a filled-in hole for the middle knob, and most notably, a rear cutaway that Eddie carved himself with a chain saw.
Boosted by the two million albums sold before it and Van Halen's heavy touring, Women and Children First landed in the Top 10 the week after its release on March 26, 1980. Peaking at number 6 like its predecessor, the album went platinum within ten weeks, the band's third million-plus-selling effort. Eddie and Alex bought themselves jeeps, Eddie invested $10,000 in what he knew best–two vintage Les Paul guitars–and the boys retired their parents from ever working again.
The record was not a critical darling. Even Creem, the black sheep of the mainstream rock press, offered a letter from a reader: "I want to write for your magazine. I hate David Lee Roth. Do I qualify?" The smart-aleck magazine answered, "You and an astonishing number of our readers."
Roth mercilessly sized up his opponents, boasting that Van Halen platters were designed to spill over the turntable and melt all the other records in the house. As he told Creem and everyone else, "All I got to say is that the reason why so many critics dislike Van Halen and like Elvis Costello so much is because they all look like Elvis Costello."
Never shirking the responsibilities of a sex symbol, Dave wanted to prove he was more than a himbo with a scream. After cornering photographer Helmut Newton at a Beverly Hills hotel, he participated in an S&M-tinged photo shoot that was out of step with his California-boy image and the band's party appeal. Shirtless and bound in black straps, Roth crouched chained to a chain-link dog pen in his backyard. Except for the excess hair on his heaving bosom, he looked like a submissive princess from a Frank Frazetta fantasy poster, not a leonine conqueror.
Exactly for those reasons, and to stir up controversy, the photo became a yard-high poster folded into the first million copies of Women and Children First. "That poster made it to more ceilings than paint," Roth joked. Thrilled with the results, Newton charged Roth only $45, which he paid to the art students who worked as photo assistants on the shoot. (Get the full story on this poster and photo shoot in Dave's own words here).
Sales:
This album (Warner Bros. 3415, 1980 [33:13]) was recorded in seventeen days and released on 03/26/80. It reached #6 on the U.S. charts (04/19/80) and #15 on the U.K. charts (04/06/80). It was certified gold on 05/29/80, platinum on 06/02/80, double platinum on 10/22/84, and triple platinum on 08/04/94. The album was remastered and rereleased on 09/19/00. 4.3 million copies have been sold in the U.S. as of 2004. (It hasn't again been recertified by the RIAA since that year, so the exact U.S. sales is unknown).
Misc facts:
The album's title came from Dave. One morning, after a typical Van Halen-style rampage, Dave awoke to distant screams of, "The ship is sinking!" Dave replied, "Women and Children First!" The phrase stuck.
One version of the album was released on a special cassette form along with Fair Warning.
In the band's licensed game, Guitar Hero: Van Halen, four of the nine tracks of this album are available for play: "And the Cradle Will Rock…," "Everybody Wants Some!!," "Romeo Delight," and "Loss of Control."
The album contains a track at the end of "In a Simple Rhyme", a brief instrumental piece entitled "Growth", which begins at 4:19. While "Growth" faded out on the original vinyl LP and cassette, it was finally given a cold ending at full volume on the compact disc. At the time the band were toying with the idea of starting what would become their next album Fair Warning with a continuation of "Growth", but this did not occur. Several outtakes from these sessions exist, including an unreleased instrumental titled often referred to as "Act Like It Hurts", which was the title Eddie Van Halen originally wanted for "Tora! Tora!" "Act Like It Hurts" also provided a riff for "House of Pain", released on 1984.
"Everybody Wants Some!!" was featured in the 1985 comedy Better Off Dead, during a sequence featuring a singing, guitar-playing claymation hamburger. You can see the video here.
David Fricke: "There's a little Van Halen in everybody."
Van Halen toss melody — along with subtlety and good manners — straight out the barroom door. Specializing in decibels and cock-strutting bravado, they put forth the proposition that Might Is Always Right, and the proof on their third LP, Women and Children First, is pretty convincing. "Romeo Delight," "Everybody Wants Some!!" and the mad, triple-time dash, "Loss of Control," are works of high-volume art. Each features banshee guitars, hellish drumming, lead vocalist David Lee Roth's cries of hedonistic ecstasy, and ensemble harmonies that sound like the Byrds singing through a sewer pipe — all violently competing for attention in an explosive sound mix.
But underneath the noisy chutzpah, Roth and his mob are exceptionally good players. This is especially true of guitarist Eddie Van Halen, who harnesses feedback almost as well as Jimi Hendrix did and displays smarts plus speed in his solos. As for David Lee Roth and his big mouth, he puts up a lot better than he shuts up, baying at the moon with far more spirit and comic panache than most of his competition. Megalomania of this kind is an acquired taste, yet the haste with which Women and Children First bullied its way into the Top Ten suggests that there's a little Van Halen in everybody.
– David Fricke, Rolling Stone June 26, 1980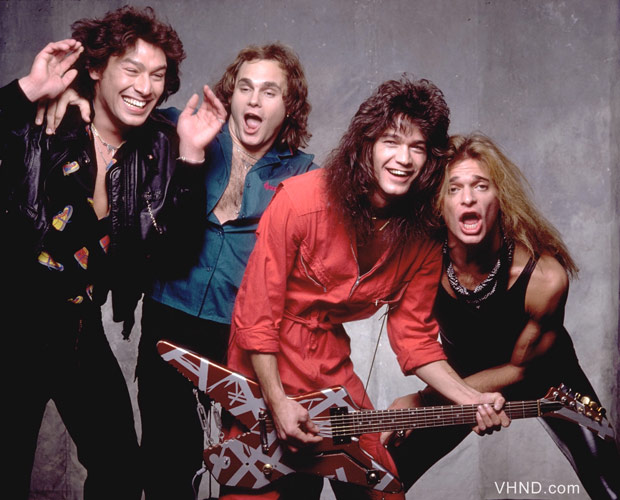 Interview with David Lee Roth on the making of Women and Children First
David Lee Roth on Van Halen: "The best parts of our songs are made up on the spot" – From Rock Stars Magazine, 1980.
David Lee Roth is an animated, energetic, and perpetual motion type of character whose tastes lie more in television and cheeseburgers than they do with Ferraris and filets. He is the kid next door, but with a certain edge which makes you stop him from dating your sister. Laughter comes from him incessantly as he spills out anecdote after anecdote and in just a short while you too are drawn in by his mirthful and honest demeanor.
Roth embodies in human form what Van Halen represents musically – that is a powerful, street level, take-it-to-the-limit character whom anyone can identify with and judging by the sales of the band's first two albums, everyone has. Van Halen II garnered platinum status while the group's debut release brought as much attention as any first album has in recent memory.
The quartet is now finished with it's third album titled Women And Children First and Roth is not reluctant to voice the impact it will have.
"The 80's is it, it belongs to Van Halen," says the singer in a voice which booms off the walls of the room. "We're the youngest and we're the newest and we're coming on real strong. I like all kinds of music, but by and large Van Halen is the youngest, newest and biggest thing coming on."
The blond haired singer views the preceding two albums as a mere "warm up" for the main event. Those records were just "grabbing the ropes, do a few knee bends, and hyperventilate a little," according to Roth and now the main event is the third release here in the 1980's.
Like the pair of earlier records Women And Children First was recorded virtually live with only a minimum of overdubbing. The band uses the same equipment they play on stage, all the way down to the towel and change of clothes for Roth. Over half of the album was recorded live and the only time there is an embroidery track added is to compensate for a lack of visual.
"What would you rather be, deaf or blind?" queries the vocalist. "You don't have to answer me because I can tell what the readers are thinking right now because they are reading and not listening to this magazine. You have to have something which feeds you through your eyes as well as your ears. And we make up for that in the studio with a little echo or overdubbing, but we try and keep it very natural."
The Van Halen sound spills over the edges of a record. Like the beer commercials on TV, no one pours a glass of beer which rises just to the top. Everyone is waiting for that foam to rush over the edges and down the sides and that is exactly what this third album does. It erupts all over the record player and down to the rug and this is the real quality Van Halen is best identified with.
With little overdubbing it is not surprising that Women And Children First was recorded in five days. The first day and a half was spent in logging the proper sound for each instrument so it can be transferred to tape exactly the way it should be heard. Mixdown is kept short and sweet and overdubbing is handled in a matter of hours.
"I get bored real easy," describes Dave. "I was brought up just like the rest of the guys on a heavy, heavy diet of television and radio. And that means I can't last more than twelve minutes without a commercial. Van Halen's songs are short and it ain't like I don't have a lot to say, but I get bored even with what I have to say."
The bulk of the material was written on the band's just completed tour. The way a Van Halen song grows is Edward will have the seed of a song and the music will be arranged and then Dave will sit back and visualize what the music is saying. "It's folk music delivered with high impact," muses Roth.
All the tunes on the album are delivered with "heavy impact" and on that level the Van Halen attitude has not changed at all from previous records. The group has, however, added a new twist in the form of a keyboard played by bassist Mike Anthony. The electric piano bears no resemblance in sound to other recorded pianos and in the same way the band has systematically destroyed the concept of electric guitar, big drums, and screaming, so too have they lent this treatment to the Wurlitzer.
"You can't change the attitude of Van Halen; all you can really change is the instrumentation and the beat. But as far as resemblance to the first two Van Halen records goes, no, I think Women And Children First makes them look little."
The sound, the music, and songs are "ultra entertaining" and Roth senses it will be the big kickoff for the band.
The album (like "Ice Cream Man" on the debut) includes an acoustic track titled "Could This Be Magic." There is an abundance of guitar songs and while the shape of the song is different there is no loss of intensity.
"The music has grown but it hasn't matured," jokes Roth. "How I hate that word! But it has definitely evolved. I managed to keep myself from maturing since the time we went on the road eighteen months ago, but I have evolved. It doesn't get better and it doesn't get worse, but baby it sure gets different. It's not like rock like you've heard before. Once again we're not going Mahavishnu techno-rock and no we're not playing reggae tunes and no this is not new wave."
The title of the album came from a line in the acoustic track, "Could This Be Magic," which reads: "Lonely ships upon the water/Better save the women and children first/Sail away with someone's daughter/Better save the women and children first."
Other titles include, "Romeo Delight," which is a showcase for guitarist Van Halen. On it he plays guitar in the unorthodox fashion which has become his trademark. [Click here to see what Dave has to say about "Romeo Delight."]
The title of the piano tune is, "And The Cradle Will Rock," (Edward plays it on record; Michael will play it on stage). "That's the closest I ever got to the Bible," philosophizes Roth. [Click here to see what Dave has to say about "Loss Of Control."]
"Everybody Wants Some (I Want Some Too)" is complete with jungle sounds, Tarzan yodels, and exotic drumbeats. The middle of the song features an impromptu monologue delivered by Roth. [Click here to see what Dave has to say about "Everybody Wants Some!!"]
A "heavy duty Broadway shuffle" is how Roth describes "Fools." "It sounds like city streets at night," he says. Dave calls the music very personal in terms of lyric content, and says it comes from the heart – or some part of the body. Three other pieces complete the album, which also features special intros to the tunes completely independent from the song they precede. There are no strictly solo pieces a la "Eruption" or "Spanish Fly" (from the first and second albums respectively), but rather each song contains such an abundance of Van Halen guitar techniques that every composition is a solo within itself.
Women And Children First does showcase a changed Van Halen, but not necessarily a matured one. The songs are still basic guitar, bass, drums, and vocal pieces but with the hindsight of two earlier recordings they are instantly recognizable as Van Halen. So, too, the group has not succumbed to the pressures of many new outfits who hit quickly; they have not gone into more elaborate recording techniques or tried to cash in on the more commercial music around. Van Halen has remained true to itself and in so doing represents one of the few "real" rock bands of a contemporary status.
This Women and Children First album page (and the song pages linked to from here) was compiled by the staff of VHND. Some of the information came from Rock Stars magazine, "Everybody Wants Some: The Van Halen Saga" by Ian Christie, and also the Van Halen Encyclopedia, by CJ Chilvers. The Van Halen News Desk has recently acquired the VHE and we will be adding huge sections of the VHE to the VHND over the next few months.