Updated 8/18/19 with more photos
On this day in rock history, Van Halen performed for 65,000 sweaty heavy metal fans at the 'Monsters of Rock' Festival at Donington Park in Castle, Donington, Leicestershire, England. This show was the first Monsters of Rock show out of five the band played to wrap up the 1984 tour. This was also Van Halen's first U.K. appearance since 1980. The bill for this day included Motley Crue, Y&T, Accept, Gary Moore, Ozzy Osborne, Van Halen, and AC/DC. This Van Halen show was professionally filmed and the performance of "Hot for Teacher" was used by European MTV.
Watch backstage interviews from this day:
David Lee Roth, Alex Van Halen, and AC/DC's Angus Young Interviewed at Donington
The Monsters of Rock Tour was a festival tour of Europe in 1984. For a short portion of the tour, Van Halen played on the bill as the brief European leg of their 1984 tour supporting the album of the same name. It was the second portion of the tour after a large North American one and featured the final performances by David Lee Roth with the band until he rejoined in 2007.
Van Halen's dates on the 1984 'Monsters Of Rock' Tour:
8/18/84 Donington Park, Castle, Donington, Leicestershire UK
8/25/84 Rasunda Stadium, Stockholm, Sweden
8/31/84 Schuetzenwiese, Winterthur, Switzerland
9/01/84 Wildparkstadion, Karlsruhe, Germany
9/02/84 Zeppelinfeld, Audio Nuremburg, Germany
Van Halen's 8/18/84 Set List:
Eddie Van Halen Board Shorts!
Perfect for in or out of the water. Officially Licensed, in sizes XS thru 3XL. (Waist sizes 29 – 46). Get 'em at VanHalenStore.com!
Below are more photos, along with several Van Halen reviews from fans, courtesy of UKrockfestivals.com: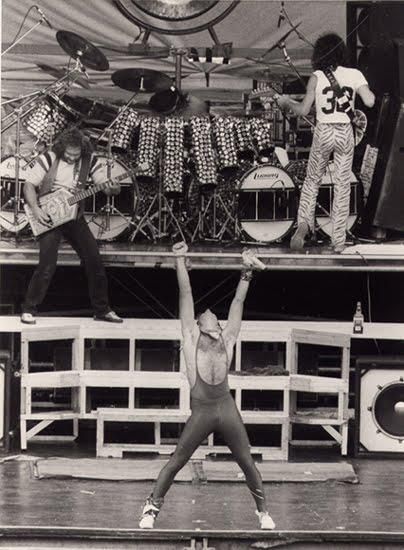 Now a lot has been said about Van Halen's appearance at Donington '84. About how they upstaged AC/DC both 'on' and 'off' stage. Well, I'm not too sure about what went on behind the scenes but 'on' stage they didn't come even close. OK, I'm biased, I'm a card carrying AC/DC fan and not a Van Halen fan at all, even though they did impress me when they supported Black Sabbath back in 1978, but really, on the day, Van Halen didn't really live up to the hype preceding the show or the urban legend that followed it. They were good, I guesss, but just not good enough. Maybe all the hype had built up our expectations too much, who knows? One thing I did notice was a lot of Halen fans getting pissed off with Eddie's over-use of the keyboards.
The band I really wanted to see most was Van Halen , the DLR era of the band is indispensable to me, amazing band. They were good but like Y&T not as good as I hoped they would be, I bought a bootleg tape some weeks later and Dave Lee Roth's raps made it worth the money alone. "Don't be throwing no shit up on stage, but that's alright I know who threw that bottle and after the show pal I'm gonna fuck your girl friend man", being one of the best. Halen were great but not as great as some of the bootlegs I've heard from other places.
—Carl Adams
I wasn't a big Van Halen fan prior to the event, but I got carried away with all the hype and decided to give them a closer look. Venturing down to the front for the first time in 5 years. I really enjoyed their set….even Michael Anthony's bass solo (he rolled around the stage with his bass clutched to his chest if my memory serves me well). When I made my way back up to the rest of our troupe they all said that they had been disappointed with Van Halen. Maybe the performance didn't carry too well towards the back of the crowd, but from my vantage point (approx 6 rows from the front) they were very good.
—Paul Hartshorn
I was there. I'm a "Yank" from "The Colonies". Was stationed in London at the time (Navy). I remember the trash fires that spotted the landscape. It was an eerie scene as the sun set. One of my friends commented how it looked like a scene from a Cecil B. DeMille movie. The Mongol hoards awaited AC/DC. For some reason I wanted to hear "Atomic Punk". I didn't know why. It wasn't my favorite Van Halen tune, but here's come Eddie opening the performance, guitar held vertical and high, scratching out the intro to "Atomic Punk". I couldn't have been happier at that moment. It was my first time seeing VH and AC/DC live. I was blown away! Wish there was a DVD of the entire event.
—Karl
In hindsight, VH were ok, I'm just glad they weren't headlining, the early stuff sounded good and Dave Lee Roth certainly came out with the best one-liner of the day…."If you throw another bottle at me I'm gonna come down there and fuck your girlfriend".
—Ashley Haynes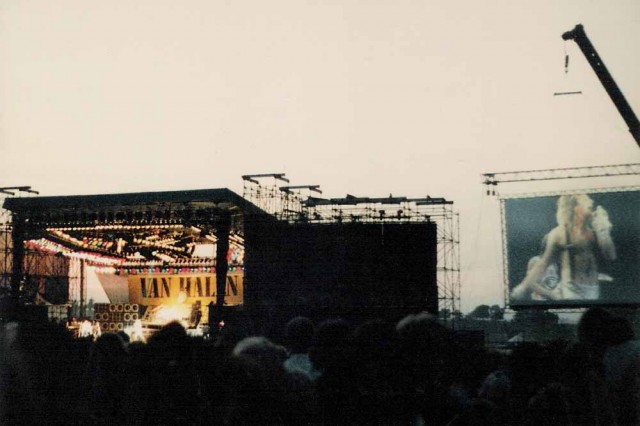 Van Halen were, as feared, a bit overindulgent with the solos but of course of huge interest as these were to be the final dates with DLR (Karlsruhe was the penultimate one) and I'd never seen them before. AC/DC perhaps came as a bit of an anticlimax.
—Mark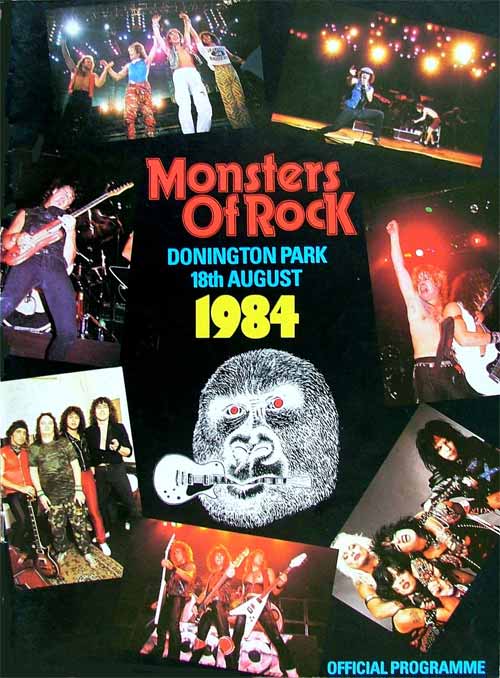 Van Halen just blew the whole place apart they were incredible, didn't put a foot wrong, the band were full on Dave dancing around rapping with the crowd ("Don't poke your tongue out at me honey unless you intend to use it"). The sun was just starting to go down in a clear sky but VH were on fire.
—Moz Morris

MORE ONSTAGE & BACKSTAGE PHOTOS HERE:
The band didn't return to the UK for a further 9 years, until the "Right Here, Right Now" tour in 1993.