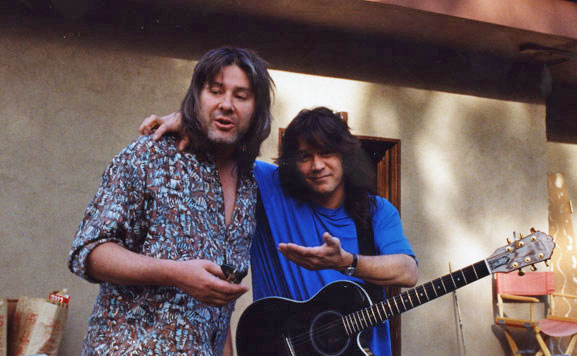 Pro-Tools-Expert.com broke the tragic news today – legendary producer/engineer Andy Johns passed away today. Andy and Ted Templeman produced Van Halen's For Unlawful Carnal Knowledge.
From Examiner.com:
Legendary rock producer Andy Johns dies at 61: Worked with Zeppelin and Stones
Andy Johns was one of rock's most iconic engineers and producers. The 61-year-old English music legend had his hand and expertise on some of rock and roll's seminal albums including six Led Zeppelin and several Rolling Stones records. Artist's like Eric Clapton, Blind Faith, and Free, along with 80s hard rock staples like L.A. Guns, Van Halen and Cinderella were all recipients of his massive talents. Johns was fortunate enough to learn from the best including Eddie Kramer (Kiss, Pink Floyd, Alice Cooper).
With Kramer he was able to work as second engineer on recordings by Jimi Hendrix and many others at famous sound studios like Record Plant and Electric Lady in New York City, New York.
Johns began his career as a tape operator for Olympic Studios in London where he worked with Rod Stewart, Jethro Tull and Humble Pie. He worked with the Rolling Stones from 1968-1973 helping to capture the sounds for "Exile On Main Street" from Keith Richards' mansion in the South of France.
Johns family tree is ripe with sound engineering talent. His brother Glyn Johns has worked with countless high profile musical artists including The Beatles, Bob Dylan and The Who.
Johns was the father of Hurt's former drummer, Evan Johns and rock singer/guitarist Will Johns, and uncle of producer Ethan Johns (son of Glyn Johns) who helmed records by Ryan Adams, Crosby, Stills and Nash, and Kings of Leon.
Van Halen and Chickenfoot bassist Michael Anthony offered his thoughts on johns passing:
"Just heard about the passing of my friend and producer, Andy Johns. Words cannot express my sadness upon hearing this. Those of us who had the pleasure of knowing and working with Andy, you know what I'm saying. I loved you brother. Annette, you are in my thoughts and prayers."
Offered fellow production legend Sterling Winfield (Pantera, Damage Plan):
"Rest in peace Andy Johns. You were a TRUE legend!"
Former L.A. Guns guitarist Stacey Blades shared his thoughts as well:
"My friend, my mentor and inspiration Andy Johns passed away today. A true legend in the record biz. I'll miss you old friend."
Ratt bassist Juan Croucier took to Twitter with his thoughts:
"RIP legendary producer/engineer Andy Johns, an amazing talent. You'll be missed by so many. God Bless."
Queen guitarist Brian May was eloquent as always in his condolences:
"Ouch. So sad to hear of the passing of Andy Johns … great record producer. Lovely guy – patient, skilled, funny, encouraging, sharp … all the qualities you want in someone who is getting your music on to tape.

I remember him as one of the Olympic Studios team in Barnes … playing around with varying tape speeds and early phasing … with George Chiantz …

He went on to become one of the very top rock producers in the world.

Condolences to all the family. Andy was such a great guy. RIP. — Bri"
Andy Johns was an astonishing talent who leaves behind an astounding legacy. His recent works included records by Godsmack, Chickenfoot and Steve Miller.
At this time, his passing has yet to be confirmed and no details have been released, so we'll hope and pray it's another internet/Wikipedia hoax, but it so far it seems to be accurate.
Related article:  Legendary Record Producer Andy Johns on Producing Van Halen