On May 8th, 1953, Alexander Arthur Van Halen was born in Amsterdam, Holland. Later the family moved to Nijmegen, where they lived until they moved to the U.S. when Alex was about 9, through a government-incentive program to reunite families.
Because the family spoke little English, Alex and Eddie formed a bond during this time that has lasted their entire lives. Together they adapted to a new country, a new language, and new ideas about music. The brothers still keep a picture of their old Dutch home in the5150 Studio and revisited the house after the recording of Balance (1995).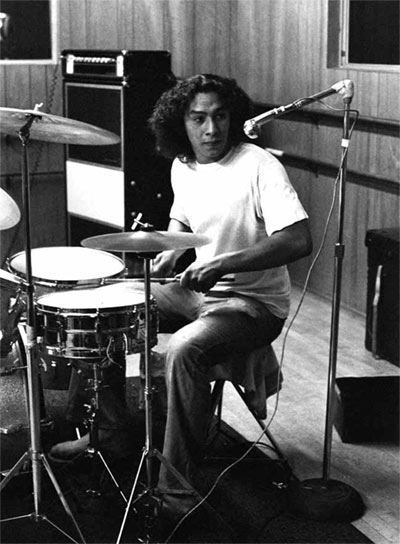 Early on, Alex's parents, Jan and Eugenia Van Halen impressed upon their sons a love of music that originally meant classical training. Both Alex and Eddie Van Halen were trained as classical pianists in their childhood. Afterward, Alex's teaching consisted of classical guitar. He didn't take to it, though, and preferred playing his brother's drums. When Eddie took a job as a paperboy to pay for the $125 Japanese St. George drum kit, Alex played the drums instead of the guitar. The practice paid off, and Alex learned to play the drums very quickly. When he learned "Wipe Out," the two knew it was time to switch instruments.
Having found their musical niches, the brothers began to play at intermissions of their father's gigs. The audience loved them. Eddie recalled that once his father passed a hat around to collect money from the audience while the brothers were playing. More than $22 was collected. Jan gave each of his sons $5. When they asked about the rest of the money, his father responded, "Welcome to the music business."
Alex and Eddie formed their first band with three other boys, calling themselves The Broken Combs, performing at lunchtime at Hamilton Elementary School in Pasadena and this was identified as the first time when the desire to become professional musicians was formed (when Eddie was in the 4th grade). Other bands the brothers were in before Van Halen were The Trojan Rubber Company, The Space Brothers & Mammoth. The two brothers are the only members of Van Halen who have been in the band for its entire duration.
One of Alex's first jobs was delivering chicken for a restaurant called Chicken Delight. Their ads stated, "Don't cook at home tonight; order Chicken Delight!"
Alex graduated from Pasadena High School in 1971. He met Michael Anthony and David Lee Roth while attending Pasadena City College, where he was studying music theory, scoring, composition and arrangement. The three of them left school after they formed Mammoth along with Eddie.
Alex was the real rocker in the family, partying like a rock star well before Mammoth formed. However, Alex has always remained the most silent member of the band. Not much is known about his personal life.
No other drummer in his generation has a technique that is as distinctive. As early as his late teens, Alex was baffling the other musicians with his skill, including in his music theory class at Pasadena City College. Alex is a strict composer as well, making arrangements and arguing with his brother over theory.
Before the band was signed, Alex also took the role as band manager along with his drumming duties.
In the early days of Van Halen, Alex had a signature bushy hairstyle and a stage presence rivaled only by David Lee Roth. Though he never changed his stage persona, he did shave his head bald in 1986. When asked about this, Alex explained that the entire band was going to shave their heads, but chickened out after seeing what the barber had done to him.
Alex almost lost a finger working in a machine shop before the band got signed. Luckily, he kept the finger and pounded out the grooves that made Van Halen the revolutionary debut it was. Van Halen II (1979) was fans' first real exposure to the gifted playing of this drummer, though. "Outta Love Again" showcased the previously lesser-known Van Halen brother.
Alex's beat would later inspire Van Halen songs like "Poundcake" (1991) and "Without You"(1998). His arrangements are evident in songs like "Pleasure Dome" (1991) and "Doin' Time"(1995), and every tour after introduced a new and improved drum solo.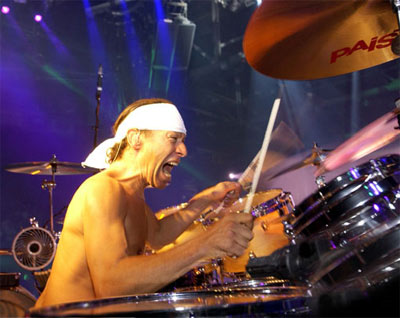 He has had his own signature series of sticks by Calato. In the early days he used a 3S wood-tip model. He doesn't keep his equipment. Though some of his old drum sets are being restored, he wants everything to be given away.
While not much may be known about the man himself, fans can deduce all they really need to know by listening to his music.
Even though the term "brown sound" is generally associated with Eddie's guitar, Alex originated the term to refer to the sound of his snare drum.
Alex is known for being an entertainer at live shows, performing aggressive drum solos and stage pyrotechnics.
The only non–Van Halen example of Alex's musicianship can be found on the soundtrack to the movie Twister (1996). The instrumental "Respect the Wind" (for which the Van Halen brothers were nominated for a Grammy Award in 1997 for Best Rock Instrumental Performance) features Alex on keyboards (with Eddie on guitar). The song was used for the movie soundtrack Twister and plays during the movie's end credits.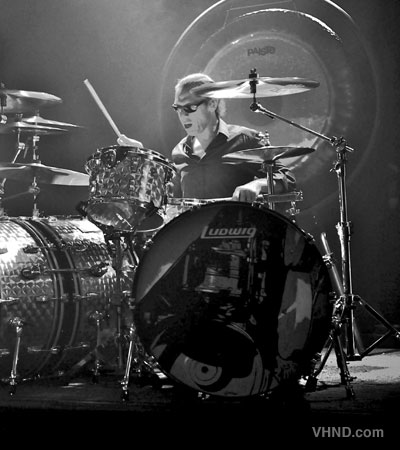 Alex endorses Ludwig drums, pedals and hardware, Paiste cymbals, Remo drumheads and signature series sticks by Regal Tip/Calato. A long-time Paiste endorser since March 1983, Alex in co-operation with Paiste developed his signature ride which is a 2002 24″ Big Ride, introduced at the 2010 Winter NAMM Show. Alex has used Rototoms and octobans in the past as well as electronic drums and is renowned for using extravagantly sized drum kits that feature four bass drums, having originally used two bass drums before upgrading to four bass drums.
Regaltip created the Alex Van Halen signature drumsticks when he became an endorser. However, despite being a long-time user of Regaltip, Alex has also tried using Easton Ahead drumsticks.
Alex Van Halen's influences include John Bonham, Ginger Baker, Ray Phillips, and Keith Moon and he has cited jazz drummer Buddy Rich's work as having an early and lifelong impact.
Alex married Valeri Kendall in June 1983, after a two-year engagement. The marriage ended in divorce just two months later. Alex has two sons, Aric Van Halen (born October 6, 1989), with his ex-wife, Kelly Carter, whom he divorced in August 1996 after 12 years of marriage. Alex married his current wife, Stine Schyberg, in 2000. She is the mother of his son Malcolm Van Halen. Alex is the uncle of Wolfgang Van Halen.
Alex has become an ordained minister and presided at the weddings of his brother Eddie Van Halen in 2009 and his former sister-in-law Valerie Bertinelli in 2011.
Alex's 2015 Drumset
Watch Alex Van Halen's Drum Solo From Van Halen's Final Tour (8/7/15 – Toronto)
---
Modern Drummer has released a special book entirely devoted to Alex Van Halen!
Modern Drummer Legends: Alex Van Halen is the second installment in the 'Modern Drummer Legends' series and is the one and only Alex Van Halen drum book!
Includes Alex's 1983, 1993, and 2008 Modern Drummer cover stories. Transcriptions of classic Van Halen tracks, beats, and fills. A survey of the evolution of his famous live drum kits. A deep dive into his unique snare sound + an exclusive brand-new 2020 MD interview! And lots of photos.
Order Modern Drummer Legends: Alex Van Halen at Van Halen Store.