Seventeen-year-old alternative pop star Billie Eilish was asked if she's ever heard of Van Halen during her Jimmy Kimmel interview. Her answer shocked many, and led to an off-the-rails debate on twitter, which caused 'Van Halen' to actually become the #1 trending topic on Twitter today!
When Jimmy Kimmel asked Billie Eilish to name any member of Van Halen on his show a few weeks back, she couldn't.
"Who? No, who is that?" she asked him.
"I'm gonna start crying," Jimmy joked.
Other things she admitted she apparently never heard of were Huey Lewis, Run-DMC, Bill Cosby, Mt. T, Cabbage Patch Kids, and Ghostbusters movies.
Even though her answer probably shouldn't have, it led to thousands of people weighing in, both attacking her and defending her.
"How could she possibly never hear of Van Halen?" Versus, "Why the hell should she know about them? She's only 17!"
Of course, to be fair, why would Billie Eilish's know who Van Halen is? Sure, if she was into classic rock, or had family members who were, she sure might have. But we're not surprised she hasn't. After all, she wasn't even born when Sammy Hagar left the band in '96, and would have been only 10 when Van Halen's last album, 2012's A Different Kind of Truth, was released.
Now that this 'Van Halen' debate is everywhere on twitter, Wolfgang Van Halen chimed in as the voice of reason on the whole thing. "If you haven't heard of Billie Eilish, go check her out. She's cool," he tweeted. "If you haven't heard of Van Halen, go check them out. They're cool, too. Music is supposed to bring us together, not divide us. Listen to what you want and don't shame others for not knowing what you like."
Wolf's answer was short, sweet, and brilliant.
Watch the interview below. The Van Halen question starts at 3:14.
The Van Halen News Desk promises you you'll be hearing A LOT more from Wolfgang in 2020!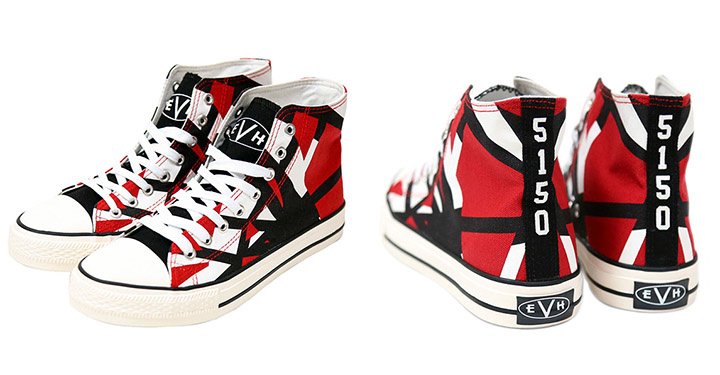 Check out the All-New EVH Frankenstein High Top Sneakers from legendary rock guitarist Eddie Van Halen. Featuring the iconic the Red with White and Black stripes, modeled after his infamous "Frankenstein" guitar. Just released and available at VanHalenStore.com.