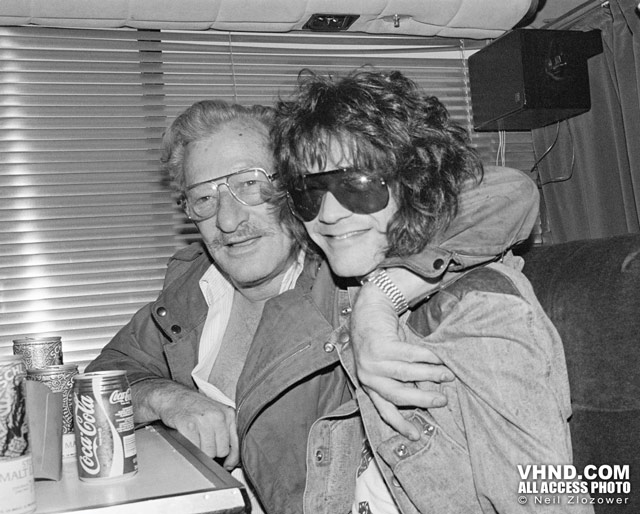 By VHND contributing writer Kevin Dodds, author of Edward Van Halen: A Definitive Biography
Jan Van Halen—the patriarch of the entire, extended Van Halen family—was a perpetually working-class musician until the release of Diver Down in 1982. He was over sixty years old when he finally landed his biggest gig: tracking a song in a recording studio with his two sons for a band that bore his own surname.
Jan was born in The Netherlands in 1920 and caught the musical bug at a young age. Before he reached the age of eighteen, he was described as a master of both the clarinet and saxophone. Jan had been playing in jazz bands, swing bands, and orchestras around Europe before WW2 erupted. Jan enlisted in the Dutch Air Force in 1939 where, fortunately, his musical talent landed him the job of playing marches for Dutch troops (Jan would later proudly share these marching tunes with his young songs). When Germany invaded The Netherlands in May of 1940, they conquered the small country in only five days. All Dutch soldiers were conscripted to fight for Germany or they were shot on the spot. As a captive soldier, Jan's abilities led him to an assignment entertaining troops and playing propaganda music rather than fighting in the trenches.
The torment of the war and being next-door neighbors with Germany caused Jan to travel to Indonesia, which had been under Dutch colonial rule until the war started, for a potentially more lucrative musical career. It was during one of his performances that Jan wooed Eugenia van Beers. The two married and moved to The Netherlands in 1949. Jan continued to work hard as a professional musician when he became a father: his sons Alex and Edward were born in 1953 and 1955, respectively. However, Eugenia became convinced from members of her family that had relocated to the United States that they should relocate to California. Knowing essentially little to no English, the family made the big move in 1962.
1962 — the Van Halen Family on a boat to America. Full Story here.
After resettling in Pasadena, Jan continued to work as a musician, playing such notable locales as The Continental Club, La Miranda Country Club, and The Alpine Haus. His income from music was not enough to make ends meet, so he often took on many different jobs including janitorial work, washing dishes, and answering phones overnight. Nevertheless, Jan practiced relentlessly at being the best musician he could be. Eddie said, "I knew what music was really about ever since my earliest memory of hearing my dad downstairs in his music room, holding just one note on his clarinet for as long as he could. I'm serious. He wouldn't just sit there pissing up a rope."
However, Jan's persistence in music and his influence on his children was a constant source of familial tension. Eugenia simply could not understand why Jan did not just give up and get a regular job. "The whole time I was growing up," Edward said, "my mom used to call me a 'nothing nut—just like your father.'" When Edward finally picked up the guitar, Eugenia's frustration hit an all-time high and often a young Edward's punishment was his mother locking his guitar away in a closet. Regarding his father, Eddie recalled: "I think my desire to do my own thing came from my dad. He was a real soulful guy. He played sax and clarinet like a motherfucker." In a 2012 interview, Ed said about Eugenia: "I hate to say it, but I don't think my dad would have drank as much as he did if it wasn't for her. She had a heart of gold, and don't take this the wrong way, but Hitler on a bad day, whoa."
Sadly, Jan suffered one of the most horrific accidents that can befall a musician: the loss of one of his fingers in 1972. Edward said that his father "tried to lift up a trailer and it fell on his finger and just chopped his finger off." A critical component of Jan's livelihood had been severed, and he essentially stopped playing the clarinet. That same year, Alex and Ed formed Mammoth, which would become Van Halen in 1974.
Jan was a huge supporter of the band and became fast friends with David Lee Roth. Having come from a family of doctors and surgeons, Dave was fascinated and impressed by Jan's experiences as a musician. When Van Halen, the band, finally hit the big-time as a headliner in 1979, Alex and Edward bought Jan a boat and he officially retired.
In 1982, the band was under an enormous amount of pressure from Warner Brothers to produce a new album immediately, so they turned in large part to cover songs for material. Dave came across "Big Bad Bill (Is Sweet William, Now)," and it instantly made him think of having Jan record the song with the band. "You know, it was actually Dave's suggestion," Edward said. Dave told Eddie, "Shit, dude, listen to this, man! Get your old man to play it!" Dave's idea was ultimately realized as one of the most important contributions to Van Halen's studio track archives—the only song that featured Jan Van Halen playing with his two sons.
Jan was initially hesitant and very nervous because he had not played since the accident. But Ed and Alex reassured him and told him not to worry about making any mistakes. Recalling the actual session, Edward said:
"Here's my father sittin' to the left of me, with, you know, sittin' on a chair, with a music stand and sheet music in front of him. I'm sittin' next to him with a chair and with sheet music and a stand. And Mike too—he's playing like an acoustic bass. … It was funny as shit, we had a great time. It looked like an old 30s or 40s session."
"Big Bad Bill" was a massive departure for Van Halen, but remains a time-tested, fan favorite. Regarding Jan's performance, Edward said, "I love—I love what he did." When Diver Down was released, the album shot up to #3 on the Billboard charts and sold millions of copies that year [to date, the album has sold over 4 million copies in the USA].
After years and years of working so hard for so little, Jan finally got his due and the recognition he truly deserved. Sadly, Jan suffered a heart attack in May 1986 and passed away the following December. Even though the timing coincided with the peak of tension between the band and Dave after their split, Dave called Edward to offer his consolation and share his own grief.
At the band's notable August 2007 press conference to announce the 2007-2008 tour and the addition of Wolfgang to the lineup, Dave, Edward, and Alex shared memories of the elder Van Halen. Dave summed up their reflective take on Jan more than two decades after his passing: "God bless him. We miss him."
Author Kevin Dodds published Edward Van Halen: A Definitive Biography, which is currently on sale for $10 off at Van Halen Store. Order it here.
VHND wishes Alex and Edward a Happy Fathers Day, and the same to all the Fathers and StepFathers out there!