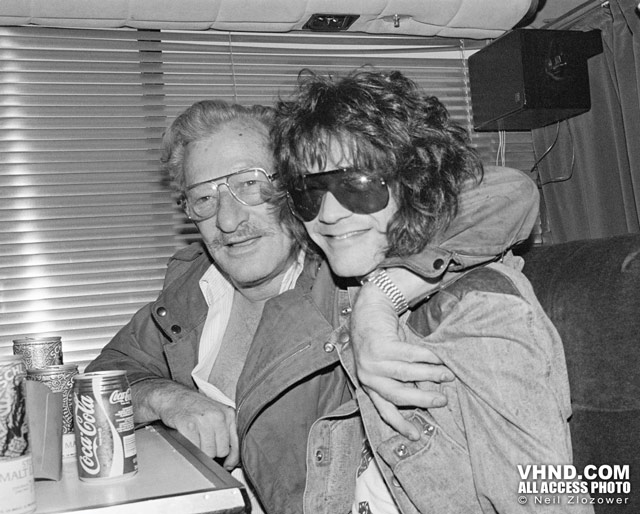 Happy Father's Day! To celebrate, this week's All Access Photo is a picture of Eddie and his father, Jan Van Halen.
Early on, Jan and Eugenia Van Halen impressed upon their sons a love of music that originally meant classical training. In Alex's case this meant playing classical guitar. He didn't take to it, though, and preferred playing his brother's drums. When Eddie took a job as a paperboy to pay for the $125 Japanese St. George drum kit, Alex played the drums instead of the guitar. The practice paid off, and Alex learned to play the drums very quickly. When he learned "Wipe Out," the two knew it was time to switch instruments.
Having found their musical niches, the brothers began to play at intermissions of their father's gigs. The audience loved them. Eddie recalled that once his father passed a hat around to collect money from the audience while the brothers were playing. More than $22 was collected. Jan gave each of his sons $5. When they asked about the rest of the money, his father responded, "Welcome to the music business, boys."
"All Access" Van Halen photos is a weekly feature at VHND.com. Every weekend we will be posting a photo from a roadie, friend, or band insider. Many will be exclusives that have never been seen anywhere before, and some will be supplied with new captions from David Lee Roth. Tune in every weekend for more!