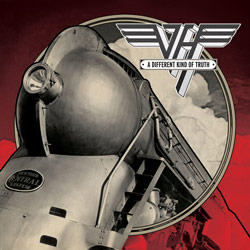 Popular rock news website Ultimate Classic Rock has listed their TOP 10 ALBUMS OF 2012. Guess which album they liked the most this year? From their article, here's their intro and their Number One pick:
"Our list of the Top 10 Albums of 2012 features some of the biggest names in classic rock history. Perennial favorites like Van Halen, Bruce Springsteen, Dylan and Rush have issued strong new records. From arena rock groups to solo singer-songwriters, 2012 has been a year in which classic rockers we might have previously counted down and out have returned with a vengeance with strong new work — as you'll see in our list of the Top 10 Albums of 2012."

#1: 'A Different Kind of Truth' by Van Halen

Wow. They did it. After nearly 28 years apart, Eddie Van Halen and David Lee Roth demonstrated that their chemistry together remains unique and magical, and created our choice for top album of 2012. With very few missteps (sadly, that includes ill-chosen lead single 'Tattoo'), the band proved they can rock in as raw and explosive a manner as they did on their earliest records ('Outta Space' and 'She's the Woman') and deliver more mature material such as 'You and Your Blues' and 'Blood and Fire.'
This is a great compliment to Van Halen, as there were lots of great albums that came out this year -Rush, Aerosmith, Heart, Soundgarden, KISS, Bruce Springsteen, Bob Dylan, Kid Rock, Joe Walsh, ZZ Top, etc. Lots of rock fans not only say that it's the best album of the year, but that it's the best album by anyone in a LONG, LONG time!
You can read their full top 10 list here.