By Richard Johnson (InquireLive.co.uk)
Queen are headlining this year's Download Festival with American Idol singer Adam Lambert. Black Sabbath were due to reunite until drummer Bill Ward decided he wanted some more money. The Beatles were the sixth best selling artist or group last year, just above Paul McCartney.
In the midst of a time where classic-rock is making a huge comeback (or is reminding us that it never really left), one of the greatest hard rock bands of all time has decided to rear its head and show its teeth. They were announced at every show as "The MIGHTY Van Halen!"
Ah, Van Halen. The band that has gone through three lead singers, eleven studio albums, eighty million records and millions of fans – have only recently broken their fourteen year silence (their last album released in 1998). If anything, this ten tonne bomb of an album, A Different Kind of Truth (Interscope), didn't just break their silence, it utterly destroyed it.
28 years after the last album with David Lee Roth, A Different Kind of Truth is exactly the album Van Halen fans wanted: "Selfishly, we don't want Van Halen to evolve, we want them to pick up where they left off." (VHND) The most gratifying aspect to the new VH record is the combination of old and new styles, putting a contemporary edge onto the romanticised sound of their early days. Fans were originally critical that a number of songs on the album were cut from 70s demos that have been circulating the internet for years, but the band have added a 21st Century sheen to these old demos, and have skillfully reworked them. Most importantly, they have given rock fans a lesson in history – this is how to do a comeback album. Subvert all expectation and blow the minds of anyone who cares to listen.
Lead single "Tattoo" (http://www.youtube.com/watch?v=3WfQ-hV3WtA) was retrospectively a strange choice to announce a return to the rock podium. A mid-paced bluesy number that is more reminiscent of Roth's solo material than anything done by the band before, yet due to the trademark guitar licks from Eddie [Van Halen, guitarist], it punches well above its weight. It wouldn't sound out of place within the top 40 – the underlying, oozing synth, charming harmonies and dense, double tracked vocals gives it a contemporary sound, but doesn't quite fit in with the rest of the much harder-edged material on the record.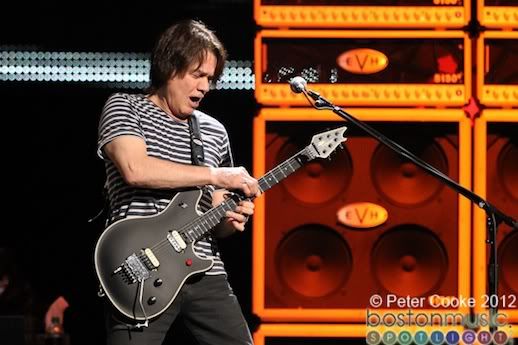 The first demo-remake of the album and current single, "She's The Woman" (http://www.youtube.com/watch?v=uX-FYv_NG2k) provides a viewing of Roth's abilities as a lyricist – "This suburban ménage e trios was worth exploring" – and the delivery and enthusiasm more than make up for any weak images in the song. Here we view a tight-knit group that are, thankfully, extremely comfortable with classic sounding material.
The band's new-found comfort manifests in the fact that the album is strikingly efficient, taking a more smash-and-grab approach to the song content than in previous records. It's heavy, uncompromising and unashamedly rooted in the knowledge that this is high-octane fan service. The aggressive, bold approach ties in with the blueprint found in their classic material. Whilst many songs adhere to the intro-verse-chorus-solo method, there are some surprises left up Eddie Van Halen's sleeve after all these years. "As Is" (http://www.youtube.com/watch?v=PPbZEEZme6Y) starts with a jungle-drum introduction that harkens to "Panama" (1984) (http://www.youtube.com/watch?v=w-NshzYK9y0), and leads into a heavy, crunching riff that tips its hat to the band's 90s material – before you know it, the riff speeds up ten-fold and Eddie attacks fast, loose and in a constantly unexpected way. Following this, "Honeybabysweetiedoll" (http://www.youtube.com/watch?v=zKKo9NzlP0E) is perhaps Van Halen's greatest homage to their heavy metal and hard rock influences. Roth's vocal delivery is deep and masterful, and the harmonics squeezed out by Eddie are sustained in an extremely satisfying way.
Perhaps the greatest feat for the band was getting the production right. The guitar and vocals ride high in the mix, but the punchy, deep bass tones give a balance to the album that has never been heard before on a VH record. Traditionally, production on Van Halen albums has suffered from tinny trebles and a distinct lack of anything low end – but fortunately, no longer. This is helped by new bassist Wolfgang Van Halen [Eddie's son], who definitely holds more than just a pocket groove. He has improved exponentially since the last tour (2007-8), and if the tapping intro on "China Town" and bass breakdown of "Beats Workin'" is anything to go by, he certainly has the talent of his father.
It must be remembered that these guys are pushing 60 now. Their maturity has shown through their music, yet they've also come to the vital understanding that most of their fans have grown with them. A Different Kind of Truth isn't just a great comeback record, it's a quintessential rock album that any music lover should own.