From Gibson.com:
Symmetrical scales are one of the most fun – and easiest to wrap your head around – ways of making harmonically interesting music without having to spend 10 years at music school (although if you can afford to spend 10 years at music school, please do, then tell me all about it so I may live vicariously though you, 'cos that sounds rad!). Two very well known exponents of the symmetrical scale are Eddie Van Halen and Dimebag Darrell. Darrell was quite open about borrowing the idea from Eddie, whose most famous example of the technique can be heard on his solo to "Ice Cream Man" from Van Halen's self-titled debut. Eddie's "Ice Cream Man" solo starts in the key of the song but quickly evolves into a bizarre, out-there-sounding tumble through cascading note flurries.
So what is a symmetrical scale, and how does it help you to rock? Well, it's simply a "fake" scale made up of repeating the same fret pattern on each string. That is to say:
playing a symmetrical pattern on each string. It's not really a scale in the traditional sense, since it actually incorporates fragments of all sorts of different "real" scales.
A word of caution before we go any further: some of the coolest-sounding symmetrical scales can involve very wide fretboard stretches, so make sure that you warm up your hands first. And for maximum rock power and ergonomic freedom, point your guitar headstock skyward to better align your hand with your fretboard. Seriously, don't do this stuff until you're warmed up.
Seriously.
Okay, now that this ominous warning of proper tendon care is out of the way, let's look at some musical examples. Each of these is designed to be played over a simple 8th-note palm-muted E5 power chord vamp at 100bpm – just count "1-2-3-4-5-6-7-8" per bar as you chug away.
What you're seeing in Figure 1 (Below) is a scale made up of the 12th, 13th and 15th frets of each string. The notes are E F G A A# C D D# F G G# A B C D E F G. As you'll see, you don't get a nice repeated octave until you get to the very last string, since both the lowest and highest strings are tuned to E. There's something coolly robotic about this particular scale, and it also makes a nice hammer-on exercise.

Figure 2 is cleverly designed to include a lot of repetitions of the same note on different strings, which should lead to some pretty interesting melodies.

Figure 3 is a lick constructed using the same pattern as Figure 2, but this time it's got some melody goin' on, rather than just being a scale run-through. I've purposely left off any kind of articulation here because there are many ways you could do it: you could pick every note; you could tap each of the 17th fret notes (and perform a "hammer-on from nowhere" when you need to switch strings immediately after the tapped note the second note of bar two); you could pick only the first note on each string and hammer or slide the rest – the choice is up to you. You can even create symmetrical patterns that require a bend from a specific fret on each string.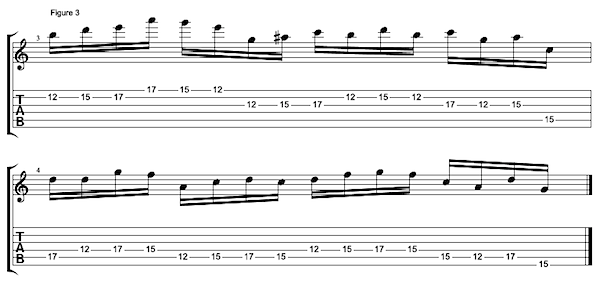 Now, of course, make up your own symmetrical scale and see what happens. Obviously you can make the stretches as wide as you like, especially if you decide to tap a note or two. You also don't need to confine yourself to one pattern per string. Why not make a two-string pattern that you repeat? As always, have at it and have fun!