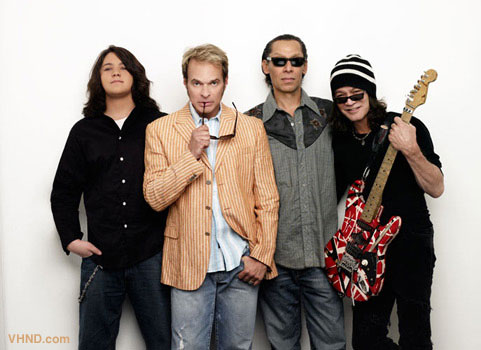 Industry insiders at Hits Daily Double are reporting that the band has split with Warner after three decades and has partnered with Sony by signing a brand new deal with Columbia Records. "After spending its entire 35-year career at WB, Van Halen, with David Lee Roth back in the fold, recently completed work on its first album for new label Columbia, coming early next year…"
This marks the first rumor of Van Halen signing a new record deal. Hits Daily Double is known for being a reliable source for record industry news, but there has been no confirmation on this rumor yet from Van Halen or Columbia.
An inside source tells VHND.com that there have indeed been serious talks between the parties, but that, as of today, there is no signed deal.
If this deal goes through, this would be a great match. Columbia has a good reputation for promoting "legacy" artists, such as AC/DC, whose last album was released to Walmart through Columbia (for those who don't know, Columbia is a subsidiary of Sony).
A new Van Halen studio album with David Lee Roth will be a HUGE deal, as it would be one of the most anticipated rock albums in many years. (It will be the band's first full album since Van Halen 3 in 1998, and their first with Roth since 1984). If Hits Daily Double is correct about the album coming out in early 2012, that would make sense, as they've got to have enough lead in time to get all their ducks in a row (ie: promotions, lead single, interviews, tour planning). The importance of doing this right is paramount.
Mastering should be completed very soon, and then it's only a matter of time before we get a new, full album and tour!