From KNAC.com: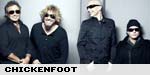 Supergroup
Pronunciation: \sü-p?r-grüp\
Function: noun
Date: 1968
: a rock group made up of prominent former members of other rock groups; also : an extremely successful rock group
If ever there was a band that fit the definition listed above, then Chickenfoot is it. I know from reading some interviews that the guys put off the notion that they're really a supergroup. The fact is, however, that by definition, they ARE. The fact that the individual members, Sammy Hagar, Joe Satriani, Michael Anthony and Chad Smith, prefer to shrug off the moniker simply gives away their character. Every one of these guys is a class act and a great musicianand collectively they try to remain humble.
Chickenfoot strutted into Houston for a show at the Verizon Wireless Theater downtown on September 16. This show was much anticipated by me and, by the appearance of things, several thousand other rabid 'Chickenheads' as the place was pretty well populated. Now I've seen Hagar before, both solo and with Van Halen and have seen Anthony in Van Halen numerous times, both with Roth and with Hagar, but have never had the opportunity to see the Satchmeister or Chad Smith perform, though I've been a big fan of Satriani's abilities. Read the rest & view photo gallery at KNAC.com.