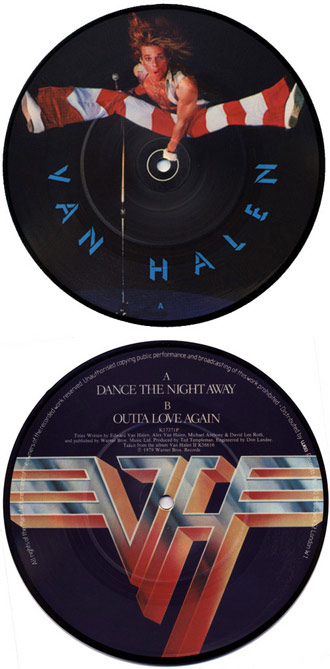 "Dance the Night Away" is the second track on Van Halen II.
Written on the spot in the studio, the song was inspired by a drunk woman who had sex with her boyfriend in the back parking lot of Walter Mitty's in full view of the band, then danced for hours in the front row of the club with her jeans put on backward.
Van Halen's first proper hit was this Latin-flavoured confection, set at a danceable medium tempo. "Dance the Night Away" was reportedly inspired by Fleetwood Mac's "Go Your Own Way," and indeed, the song is one of the few pure pop tunes of the DLR era. As such, the emphasis is heavily on the vocals and chorus harmonies. The title refrain was originally "Dance Lolita Dance," until Roth was convinced otherwise by Eddie. Though Eddie's guitar is uncharacteristically restrained, he still contributes some stellar harmonics work and a classic major-chord riff.
Eddie: "'Dance The Night Away' might seem like it's just an AM offering, but it wasn't planned that way. We didn't think pop, we didn't think AM song. It was just a riff that I had and we put it to use. And we just wrote it the way it sounded. I can't help it if I come up with a poppy-sounding riff. We just do what we come up with, as opposed to forcing ourselves to write something commercial."
The vocal melody reveals that Roth tended more towards pop than hard rock, although there is still room for some trademark yelps. "People say, I love that scream you do, Dave—where'd you get it? Deep Purple? And I say, no—The Ohio Players, baby,"  said Roth.
In the live video for this song, the editor makes a mistake by confusing Eddie's new "false harmonic" technique with regular harmonics. This is not the only editing mistake, but is the most noticeable.
Santana released his version of this song on his 2010 album, Guitar Heaven: The Greatest Guitar Classics Of All Time.
"Dance the Night Away" featured in SIX movies (read more):
1) Howard Stern Private Parts: The Movie (1997)
2) Dance the Night Away – Mission to Mars (2000)
3) Grown Ups (2010) trailer only
4) That's My Boy (2012)
5) Argo (2012)
6) Anchorman 2: The Legend Continues (2013)
Lyrics:

Have you seen her?
So fine and pretty. Fooled me with her style and ease.
And I feel her from across the room.
Yes, it's love in the third degree.
Ooh, baby, baby.
Won'tcha turn your head my way?
Ooh, baby, baby.
Come on, take a chance.
You're old enough to dance the night away.
Oh, come on, baby, dance the night away.
A live wire.
Barely a beginner, but just watch that lady go.
She's on fire, 'cause dancing gets her higher than anything else she knows.
Ooh, baby, baby.
Won'tcha turn your head my way?
Ooh, baby, baby.
Well, don't skip romance, 'cause you're old enough to dance the night away.
Oh, come on, baby, dance the night away.
Dance the night away.
Dance, dance, dance the night away.
[Repeat and fade]