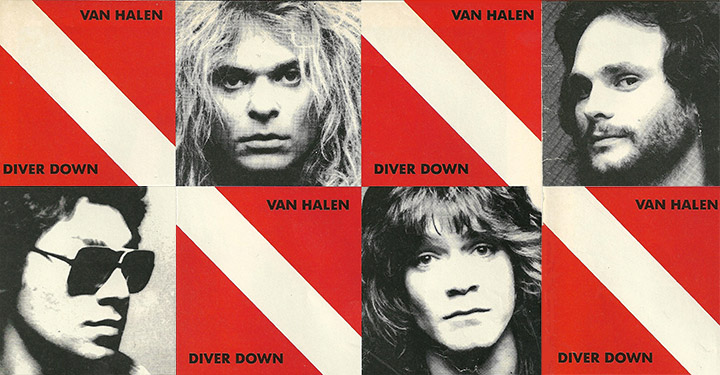 'It's not heavy metal and it's not The Temptations, but it's something in between.'
—David Lee Roth
On April 14th, 1982, Van Halen released their most unique, odd, and light-hearted album. Enjoy our tribute to Diver Down!
Diver Down, Temperature Up
By John Scanlan
Before the making of Fair Warning, Roth had moved to an apartment block just off the Sunset Strip on Shoreham Drive (a few minutes walk from The Whisky A Go Go in one direction and Sunset Sound Recorders in the other). His Hollywood nightlife presents an interesting contrast with the increasing domesticity of Eddie Van Halen's life (he had married in early 1981), which arguably altered the dynamics of the band. 'People don't just get married and picked out of a herd like cattle', Roth said years later. 'You are aiming in a new direction. You're on a different on-ramp.' This was true, but the real differences were in how the band should approach the recording process – it was the age-old rock 'n' roll issue of 'musical differences' that would emerge from the creation of Diver Down.
In musical terms, Eddie felt that the Fair Warning album's relative lack of success was being put down to the fact that he had assumed too much control over its making. It was a platinum album, but had been a slower seller than previous albums and contained no Top 40 hits, something Warner Bros were increasingly interested in. This led, in Eddie's view, to Roth and Templeman taking even more of a controlling hand for the following year's Diver Down album, which sold something in the region of two to three times more copies than Fair Warning, and mainly off the back of some hits. The album's reliance on cover versions (of songs by The Kinks, Roy Orbison and Martha Reeves and the Vandellas) sat uneasily with Eddie's growing creative ambitions and his sense that he was losing control of the band he had formed, and of which he was the chief musical brains.
While Eddie was initially supportive of Diver Down in public, he would eventually – and repeatedly, as the years passed – slight it, seeming almost to disown it. This was despite the fact that Roth had found an old song, 'Big Bad Bill (Is Sweet William Now)' that – true to his eclectic tastes – had previously been recorded by the likes of Judy Garland and Peggy Lee, and which allowed Alex and Eddie Van Halen to make their one and only known recording with their father, who played the clarinet part on the song.
However, beyond the fact that Eddie's lack of interest in the album allowed Roth to assume more control, it was the circumstances of the album's making – from a production point of view – that just seemed to gnaw away at the guitarist in the months to come. He bemoaned the fact that Templeman and Roth bounced him into the studio first to cut a single, which then ended up quickly becoming an entire album, Diver Down, half-filled with cover tunes. In truth, the 'no cover songs' plea was an overreaction because some of these songs, like 'Big Bad Bill' and the cover of the Roy Rogers cowboy farewell, 'Happy Trails', were more like interludes or cameos, in an album that seemed more akin to a 'rarities and B-sides' kind of affair. If thought about in those terms, it is a marvelous testament to their unique blend of influences – it just so happens that it presents these influences rather less blended together than ever before in their work. So, what we find is Roth doing his best Louis Armstrong impression on 'Big Bad Bill', Eddie making a guitar sound like a church organ on 'Cathedral' or doing a passable imitation of flamenco guitarist Carlos Montoya on 'Little Guitars (Intro)'. It was all, truly, in the spirit of what separated Van Halen from other bands.
But the one song that stuck in Eddie's craw the most was their cover of Martha Reeves and the Vandellas' 'Dancing In The Street'. What was most interesting about it was that it – in fact – had been turned into a Van Halen tune. Its only real resemblance to the original is in the vocal melody, which remains faithful, if carried at a slightly slower tempo. Underneath Roth's vocal is a pulsating Minimoog riff that Eddie seems to be squeezing through an echo-box and a pitch-shifter, with a squealing guitar cut-in for complimentary effect. It is as if someone had plugged Donna Summer's 'I Feel Love' into Eddie's ears as he slept, and this was what he remembered on waking. The beat and rhythm (on bass and drums) are more syncopated, less machinic and softer than the brutal industrial pulse of 'I Feel Love' – yet, more than anything else, nothing like the original version of 'Dancing in the Street'.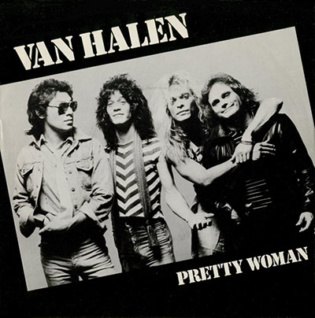 But Eddie's one legitimate gripe would have been that he got no credit – certainly not in the publishing – for his contribution whatsoever. From the guitarist's point of view, however, the main problem with this song was that Templeman and Roth had 'stolen' his original piece of music to use on it: 'I fucking hated that song. I never wanted to do it . . . Ted and Roth thought I was out of control on Fair Warning . . . and the label wanted a hit single, and they dug up all these cover tunes to try and get a hit.'
Roth, predictably enough, took a different view. For him what was important and would be remembered most of all was the spirit of what Van Halen did – and whether or not the music could capture that – not the specifics of who wrote the songs. This was partly because, as he said to a journalist, 'even the songs that were by other people sounded like Van Halen'. 'It's the same thing as stealing hubcaps', he said, dismissively: sure, its true that they may have belonged to someone else to begin with, but 'pretty soon they're on your car' – where they look like they always belonged.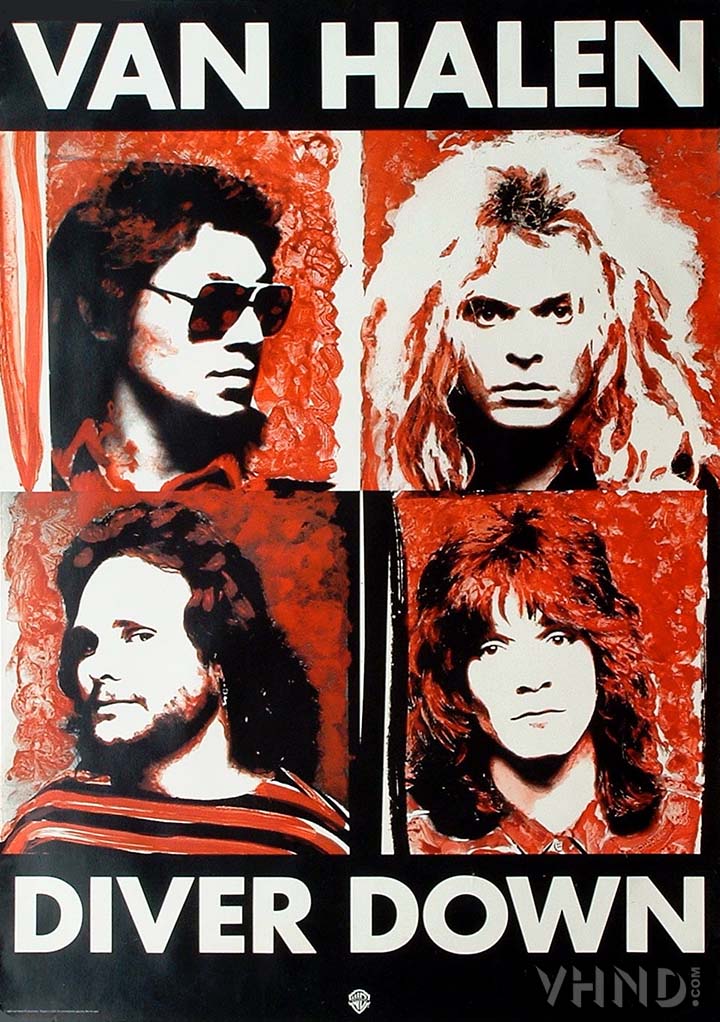 When Diver Down was released in April 1982, Warner Bros ran an advert with the words 'Diver Down, Temperature Up' above a photo of a busty waitress delivering the new 'platter' on – well – a platter. If only it had been that obvious.
The cover of the album and the title, as Roth said at the time, had naval connotations – the red background with the white diagonal slash that was on the front of the album was actually the signal flag that was hoisted on a boat when a diver had gone overboard. For Roth, and for this album, it meant that there was something going on that wasn't apparent on the surface. No kidding. In retrospect, it seems clear that Diver Down became the first serious gambit in a contest between Eddie Van Halen and Roth for supremacy over the direction of the band, one that would end with Roth walking out on Van Halen in 1985. When seen in this light, Diver Down documented not only their varied influences but also their musical differences. A mish-mash — an album that recalls Roth's description of Van Halen's live show in 1980; 'it's a hodgepodge – we'll just throw some stuff in and see where it lands' – and indeed his description of the 'big stew' of influences that made it all work.
'It's not heavy metal and it's not The Temptations,' Roth told one interviewer, 'but it's something in between.'
An insight into Roth's eclecticism was glimpsed in an interview from 1984, when a journalist from Record magazine, curious to know what music the singer was then listening to, made a note of the assortment of cassettes lying around his hotel room – she found some Clifton Chenier (the Zydeco accordionist), Black Uhuru (the dub reggae group), Mississippi John Hurt (the country blues-folk singer), as well as a tape of An Evening with Groucho Marx. Roth claimed that the way he sang couldn't be disentangled from his influences, from the music he had always listened to, which was 'Motown, disco and Jelly Roll blues: Big Joe Turner, Howlin' Wolf, Muddy Waters'. His were a set of tastes not always shared by Eddie Van Halen – Roth 'loved disco', Eddie once said in an interview in 1996, as if to demonstrate the singer's lack of seriousness: 'probably still does'. Yet as Eddie also admitted, it was the contrast between the two men, and their divergent influences, that largely accounted for the band's success.
**All the text above if from Van Halen: Exuberant California, Zen Rock 'n' Roll by John Scanlan (From the Reverb book series). Used with permission.
Track list, with song links:
Where Have All the Good Times Gone!
Hang 'Em High
Cathedral
Secrets
Intruder
(Oh) Pretty Woman
Dancing In The Street
Little Guitars (Intro)
Little Guitars
Big Bad Bill (Is Sweet William Now)
The Full Bug
Happy Trails
Released on 04/14/82, Diver Down spent 65 weeks on the charts, peaking at #3 on U.S. charts (entering on 05/08/82) and at # 36 on U.K. charts (entering on 05/01/82). 4 million copies have been sold in the U.S. as of 1999.  The album was remastered and rereleased in 2000 and 2015.
This was the band's least favorite album. Of the 12 songs, three are original instruments, and four are original full band compositions, and a whopping five covers! Though the album sold well and led to a large tour, the band seemingly felt that none of the songs on it were worthy of an appearance on Best of Volume 1. Most fans, however, love the originals and the covers, although most would agree it's not as strong as the other albums of the Dave era. Diver Down is the most unique, off,  light-hearted album in the Van Halen catalog.
The album was recorded in 12 days at Amigo Studios (now known as Warner Brothers Recording Studios) at a cost of approximately $46,000. It was the fastest selling Van Halen album yet — it was the first album to sell one million copies before the tour. The album also helps the band set a record for most consecutive platinum-selling albums at Warner Brothers Records.
The cover art, which is the international symbol to alert boats of a diver below the surface of the water, was chosen because the band had a message: though it may not be noticeable on the surface, there's something going on underneath. The live photo on the back of the album was taken when Van Halen opened for The Rolling Stones on 10/24/81 at the Tangerine Bowl in Orlando, FL.
The number of cover tunes on this album was arguably the proverbial straw that broke the camel's back, cementing Eddie's desire to build his own studio.
Eddie on Diver Down:
"When we came off the Fair Warning tour last year [1981], we were going to take a break and spend a lot of time writing this and that. Dave came up with the idea of, 'Hey, why don't we start off the new year with just putting out a single?' He wanted to do 'Dancing in the Streets.' He gave me the original Martha Reeves & the Vandellas tape, and I listened to it and said, 'I can't get a handle on anything out of this song.' I couldn't figure out a riff, and you know the way I like to play: I always like to do a riff, as opposed to just hitting barre chords and strumming. So I said, 'Look, if you want to do a cover tune, why don't we do 'Pretty Woman'? It took one day. We went to Sunset Sound in L.A., recorded it, and it came out right after the first of the year. It started climbing the charts, so all of a sudden Warner Bros. is going, 'You got a hit single on your hands. We gotta have that record.' We said, 'Wait a minute, we just did that to keep us out there, so that people know we're still alive.' But they just kept pressuring, so we jumped right back in without any rest or time to recuperate from the tour, and started recording. We spent 12 days making the album … it was a lot of fun." — from Guitar Player magazine.