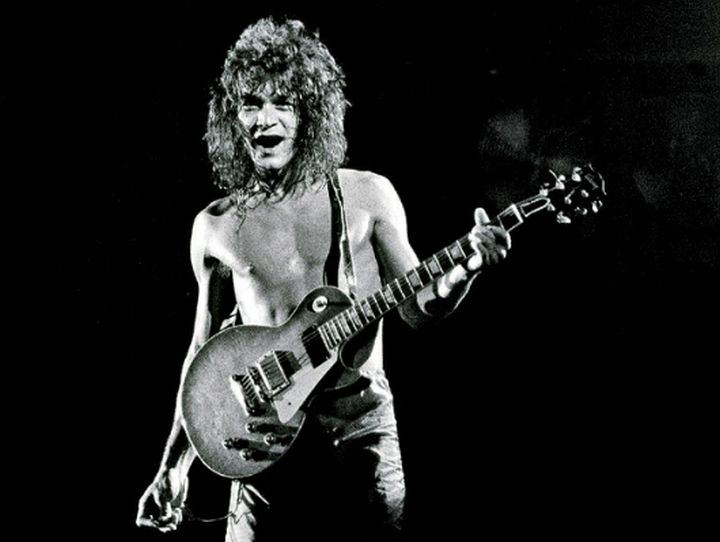 Jas Obrecht has done it again and released another exclusive tape of his 1980 interview with Eddie Van Halen, but this time we get to hear some never-before-heard riffs that didn't make it onto a Van Halen album.
Below are Jas's comments on tape five along with the complete audio from his YouTube channel Talking Guitar: Jas Obrecht's Music Magazine:
If you haven't already heard them, check out Tapes 1 through 4 of my day-long 1980 interview with Eddie Van Halen. There are only about 15 minutes on Tape 5, but what's here is special! Playing his unplugged Frankenstrat, Eddie demoes several songs he'd written for Van Halen, but none of these made it onto their upcoming album, Women and Children First. In the process, he offers unique insight into how he composes and constructs songs. Eddie identifies the first two as "Where Were You" and "Light in the Sky." He came up with the unnamed next one, he says, at the end of Van Halen's 1979 tour, when his bandmates asked him to write an "AC/DC-type song." If you can identify any of the other riffs and songs he plays. please mention it in the comments section.

This musical performance ends when our host, photographer Neil Zlozower, enters the room and tells us it's time for Eddie to drive me to the airport. Soon after that, Eddie and I took off in his Jeep CJ. At one point, we were stuck in a long line of traffic at a light. Flashing me an impish grin and telling me to hang on, Eddie gunned his engine, turned his steering wheel hard-right, jumped the curb, and sped us across the front lawns of several houses. We zoomed down to the intersection, jumped the curb, and sped off down a side street. A minute or two later Eddie pulled up in front of a convenience store and asked me to loan him five dollars. He jumped out, ran into the store, and came out with a couple of packs of Marlboros. He tossed one to me, though I don't smoke, and we completed the drive to the airport with just minutes to spare. The last sounds you hear are his farewell.
LISTEN TO TAPES 1-4: