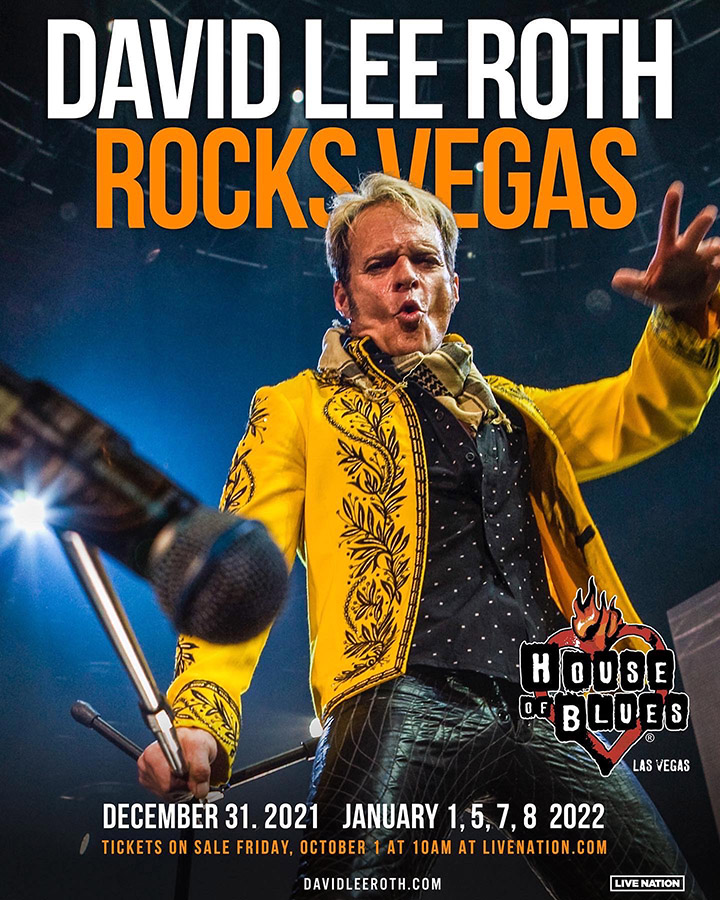 UPDATE: PRESALE INFO!
ON SALE Today (Sept 28th) at 10 AM PST
Password: DLRVEGAS
Ticket link for all 5 shows: www.ticketmaster.com/david-lee-roth-tickets/artist/736010
David Lee Roth is ringing in the new year Vegas style!
Roth has announced a handful of shows to take place at the House of Blues in Las Vegas beginning with New Year's Eve. After the December 31st show, he'll play January 1st, 5th, 7th and 8th. Tickets go on sale this Saturday (October 2nd) at 10 AM PT through the House of Blues website. Doors open 8 PM, Diamond Dave time is 9 PM.
From the House of Blues website:
– DAVID LEE ROTH: ROCKS VEGAS –
David Lee Roth – frontman and voice of Van Halen – is coming to Las Vegas. Toastmaster general of the immoral majority Diamond Dave is bringing the rock to the House of Blues Las Vegas with a larger-than-life residency at Mandalay Bay Resort and Casino.
David Lee Roth: ROCKS VEGAS will delight fans with an explosive two-guitar sound, bringing his long list of mega familiar hits to life that you've only heard on the radio till now.
With a changing set of 26 instantly recognizable songs, including "Jump", "Panama", and "California Girls", it is the sound of a generational prison break.
"A weekend with me," laughed Roth, "is interactive way beyond just music. It starts with the best food on earth. The fellas smoke their three cigarettes for the year and we all stay up way past our bedtime!"
Roth is offering various packages for the shows. Below are the choices:
JUMP PACKAGE
$700
Includes:
Two (2) tickets at a premium VIP Table
Bottle of Premium Spirit at VIP Table
Foundation Room prix fixe dinner for 2
Foundation Room Pre and Post Show Access
Priority access into Music Hall
Commemorative DLR VIP Show Laminate
Souvenir Retail Item
PANAMA PACKAGE
$550
Includes:
Two (2) tickets at a VIP table
Four (4) Premium Drink Tickets
$90 Dollar Dining Voucher for House of Blues Restaurant & Bar
Foundation Room Pre and Post Show Access
Priority access into Music Hall
Commemorative DLR VIP Show Laminate
Souvenir Retail Item
HOT FOR TEACHER PACKAGE
$450
Includes:
Two (2) tickets at a VIP table
Premium or Domestic Beer Bucket at VIP Table
Foundation Room Pre and Post Show Access
Priority access into Music Hall
Commemorative DLR VIP Show Laminate
Souvenir Retail Item
Official David Lee Roth Website: DAVIDLEEROTH.COM