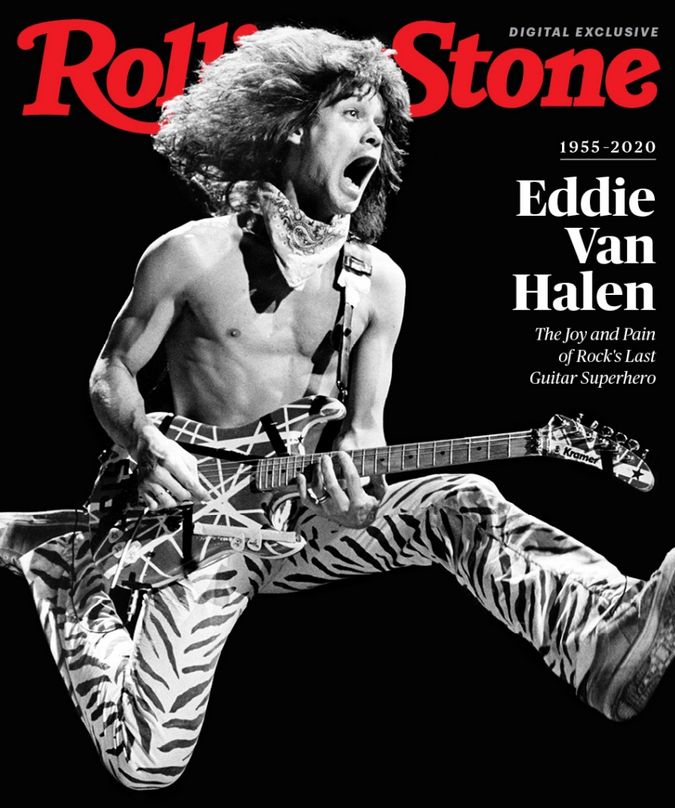 Rolling Stone has released a special tribute dedicated to the man who "elevated the art of shred": Eddie Van Halen.
Brian Hiatt of Rolling Stone wrote:
"Van Halen changed the way electric guitarists played, the sounds they strove for, even the physical construction of the instruments they used, with multiple patents to his name (and other technical breakthroughs, he credibly maintained, that were ripped off and capitalized upon before he learned how to use the patent office). He single-handedly gave the electric guitar an extra decade or more of cultural prominence, even as he'd try to duck blame for a generation of teased-hair shredders who 'played like typewriters.'
But he wasn't just a guitar player. Eddie was an award-winning piano prodigy before he hit puberty, and there were periods when he abandoned guitar altogether for as long as a year, writing exclusively on piano and synthesizers. He took up the cello seriously in midlife, playing along to Yo Yo Ma recordings for hours late at night. Friends told tales of him picking up unexpected instruments — a saxophone, a harmonica — and playing them at a seemingly professional level.
His most unbreakable bonds were familial. He and Alex played together from their preteen years all the way up to the end of Eddie's career; in their first band, the Broken Combs, Eddie was on piano and Alex played saxophone. They had an uncanny musical bond, following each other's rhythmic twists as if they shared a single musical intelligence. 'We were probably the only rhythm section in rock & roll that was guitar and drums, not bass and drums,' Eddie told me.
Early in their marriage, he told Bertinelli he'd like to have enough kids to form an entire band. When Bertinelli became pregnant with their only child, Wolfgang, Eddie played guitar for him in utero. His son turned out to be a gifted multi-instrumentalist from an early age. At 15, Wolfgang joined Van Halen on bass, and Eddie was overjoyed (displaced bassist Michael Anthony less so). 'I pick him up from school every day,' Eddie told me, with obvious pride, 'and we make music. The kid kicks ass.'
Lead singers would come and go and come back, but Van Halen wasn't the kind of group Eddie or Alex could or would leave (despite the occasional threat by Eddie during the original Roth years). It was their name, their band. Eddie's tenure in Van Halen was temporary, he once joked: It would last 'only as long as I live.'"
Eddie Left Behind 'Tons' Of Unheard Music
In the article Hiatt quoted from his 2008 interview with Eddie who said he recorded "tons" of unreleased music adding up to "close to a million CDs, cassettes, boxes and boxes and boxes."
Eddie told Hiatt he wasn't planning to let that material, which reportedly spans everything from classical to world music, stay in the vaults forever.
"The stuff is gonna come out," Eddie told Hiatt. "Hopefully people will enjoy the many sides of me. I trip on it myself."
Read all of Rolling Stone's Eddie Van Halen tribute HERE.