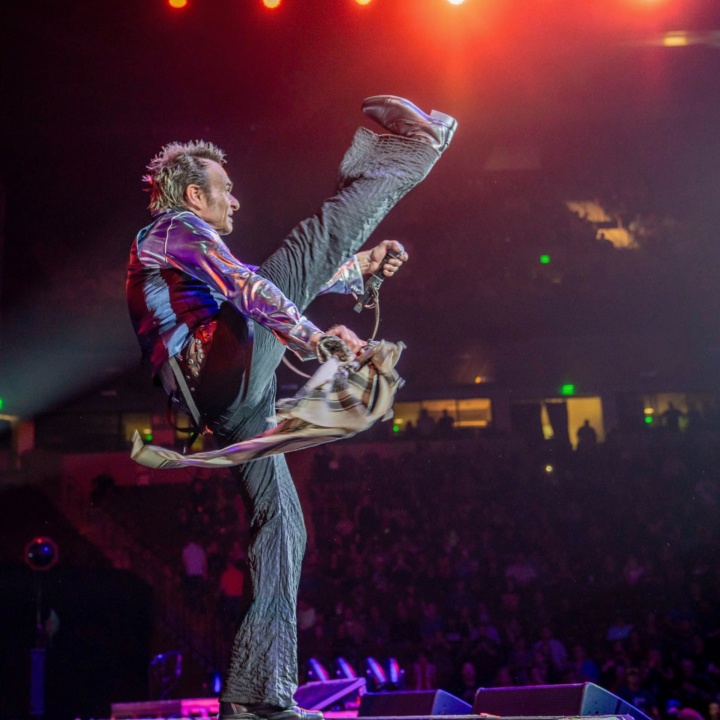 You wanted the best reviews, you got the best reviews. The Van Halen News Desk has collected some of the latest reactions by those who've had the chance to see David Lee Roth during his recent run of dates as the special guest of KISS.
Below are a handful of reviews including one from Roth's former guitarist Steve Vai:
HAD 'EM ON THEIR FEET
Steve Baltin of Forbes experienced something that rarely happens with an opening act. Then again, this is not your average, ordinary opening act. Here's Baltin's review of Roth's show at The Staples Center in Los Angeles on March 4th:
"KISS, the master showmen, added a little flair to this leg of their "End Of The Road" tour by bringing Van Halen frontman Roth out. It's a nice touch of nostalgia as the story is well documented of how KISS icon Gene Simmons was instrumental in helping discover Van Halen and producing their early demos in the '70s. It's also a brilliant musical move as Roth is a one of a kind frontman who has a wealth of Halen hits to ignite a crowd.
Man, did he do that at Staples Center, starting with the opening "You Really Got Me." Drawing liberally from the early days of Van Halen, delivering such staples as "Jamie's Cryin'," "Ain't Talkin' 'Bout Love," "Jump" and "Unchained," as well as his solo hits like "Just A Gigolo" and "Just Like Paradise," Roth, his trademark high kick still going at 65, showed why he is one of rock's all-time great frontmen. When was the last time you saw an entire arena on their feet for the whole set from an opening act? Exactly."
Original Article "KISS And David Lee Roth Deliver The Rock Spectacle We All Need At Masterful L.A. Staples Center Show"
Publish Date: March 5th, 2020
LIKE AN OVER-THE-TOP DRUM MAJOR
Peter Larsen of The Daily News also caught Roth's show at The Staples Center in L.A. on March 4th. Larsen noted that, although Roth may have had less stage space than KISS to work with, he made the most of every inch.
"Opening the show for KISS was David Lee Roth, longtime singer of Van Halen, a perfect match given the '70s roots of both bands. His set was much less of a production — most of the stage was hidden behind curtains for KISS's arrival — but Roth, 65, remains an enthusiastic performer, twirling his red microphone stand like an over-the-top drum major, dancing around the stage in matching red-and-black diamond-print shirt and pants.
His 10 songs included Van Halen hits such as "Jamie's Cryin'," "Runnin'
With The Devil" and "Panama," as well as his solo material including "Just A Gigolo/I Ain't Got Nobody." He closed with Van Halen's "Jump" which featured five consecutive spinning karate kicks, a trademark move even if he doesn't get quite as much as air as he used to."
Original Article: "KISS Got Totally Fired Up For Last-Ever Southern California Show: Here's What Happened"
Publish Date: March 5th, 2020
DAVE DELIVERED LIKE A BOSS
Roth's former guitarist Steve Vai caught his former bandmate's show at L.A.'s Staples Center on March 4th. Vai posted his thoughts on Twitter the following day and set the record straight when it comes to the question of Roth still being able to "bring it" onstage:
"Decided to go out last night and see KISS and David Lee Roth at the Staples Center. I'm sure glad I did. [My wife] Pia and I were in nostalgic bliss…it was great to see Dave Roth and his band. They did a powerful set of all the classics. The band was exceptionally tight and Dave looked and sounded great.
Sometimes these early audience videos of the first few shows of a tour can be unfair and when those first few came out of Dave's Vegas shows, I knew it was unfortunate, but I also knew he could sing better than that, and this was obvious to us at last night's show. He delivered like a boss and the audience loved it. So glad I decided to go out."
BETTER THAN THE HEADLINERS
Here's a short but oh-so-sweet review from Jim Harrington of the Mercury News who caught Roth's show at the Oakland Arena in Oakland, CA on March 6th.
"David Lee Roth was even better than the headliners [KISS], as the former Van Halen frontman opened the show with a brisk 11-song set that lasted just under 40 minutes. Roth, 65, sounded strong as he led his five-piece backing band through such VH classics as "Unchained" and "Panama" as well as a few solo cuts."
Original Article: "KISS Draws Full House Despite Coronavirus Concerns"
Publish Date: March 7th, 2020
SIMPLY CHARMING
Last is another review from the March 6th Oakland, California show. This from Riff Magazine's Tony Hicks who was at times critical but mostly impressed with what he saw from Roth and his band that night:
"If Friday was it for the Bay Area, [KISS] indeed managed to go out on a high note.
So did opener David Lee Roth, in the venue he and Van Halen steamrolled 39 years ago in the famous Oakland shows that still get run on YouTube. But more on Roth and the miracle cure for his voice later. Let's just say the tagline following DLR has gone from "Hide your daughters" in the '80s to "That Uncle Dave sure is a charmer, but don't let him near the eggnog again."
David Lee Roth ran through a tidy 40-minute set, with a band playing all those Van Halen classics, like "You Really Got Me," "Beautiful Girls," Unchained," "Panama," and more. The 65-year-old looked great and–wait for it–sang pretty well. He still didn't bother with all the lyrics and to say his cadence was "relaxed" would be kind. But his voice did sound good, especially on solo songs like "Tobacco Road" and "Just a Gigolo," on which he was simply charming. Roth looked happy to be in an arena at this point and, come to think of it, so did KISS. It would've been a fine night to call it a career for both. Which doesn't necessarily mean it'll happen.
We'll see."
Original Article: KISS and David Lee Roth Say Goodbye To Oakland (Maybe)
Publish Date: March 7th, 2020
Below are some of Roth's performances from those recent shows:
'Jamie's Cryin' – Staples Center – Los Angeles, CA 3/4/20
'Jump' – Staples Center – Los Angeles, CA – 3/4/20
'Just Like Paradise' – Staples Center – Los Angeles, CA – 3/4/20
'Panama' – Oakland Arena – Oakland, CA 3/6/20
'Tobacco Road'/'Runnin' With The Devil' – Oakland Arena – Oakland, CA 3/6/20
'Ain't Talkin' 'Bout Love' – Oakland Arena – Oakland, CA 3/6/20