We have procured some never-before-seen photos from a Van Halen record store appearance during their first headlining tour, and boy, are they awesome!
It was 40 years ago today when Van Halen signed autographs at Peaches Records & Tapes in Northeast Philly, May 19, 1979. The instore appearance is infamous, mainly because of the condition the record store was in after Van Halen was there.
We spoke to Denny Horn, who was the Peaches manager and arranged the event with radio station 93.3 WMMR Philadelphia, Warner Brothers and Elektra/Asylum Records. He reached out to VHND because he was finally scanning his personal photos from the unforgettable event, and wanted to share. And what better time than the 40th anniversary of that day?
Denny describes the day as "Pure mayhem", and his photos prove it.
Van Halen was playing the Spectrum in Philadelphia that night. But first, they were scheduled to appear at the local (and now legendary) PEACHES Records & Tapes at 3pm.
The band's second album had just come out two months earlier, and their hit single, "Dance the Night Away" was all over the radio, released just a few weeks before this appearance. Their popularity was growing fast.
There was a huge crowd – easily over 1,000 people – who showed up for the chance to see – or possibly meet? – those four dirty faced kids from Pasadena.
The band arrived in two armored trucks (one is seen in a photo below) the doors opened, and the band members jumped out, and ran into the store. David Lee Roth came in first and was ABSOLUTELY WILD, egging people on and getting the crowd crazy!
The band, or course, was not dressed in stage clothes, but rather in blue jeans and tee shirts. Alex and Dave were also wearing black leather jackets, and Dave also in red suspenders, and a shirt with the original Van Halen logo from the band's years in the clubs, which had only ended just a little over a year earlier.
Eddie, Alex, Michael and David were friendly and talkative, and signed nearly everything that was thrust in front of them by the crowd of fans for close to two hours.
In some of the photos, you can see the tall cans of Schlitz Malt Liquor that the Van Halen brothers were drinking. Denny tells VHND that the fans ignored all security measures the Peaches staff put in place that day, jumping over peach crate created aisles to get closer to the rock stars.
Denny had to grab a microphone and kept telling the crowd to calm down and step back.
Once the band exited, the staff lost all remaining control over the crowd. People literally jumped over the counters and grabbed all of Van Halen promotional items. signed or not. There were numerous Van Halen II promotional posters and 12 inch album flats, all of which is exceedingly rare and valuable nowadays.
Denny tells us that none of his friends who were there will ever forget that day. Thank you Denny, for taking the time to scan your photos and share your story with VHND.
Getting ready for the band…
During the event…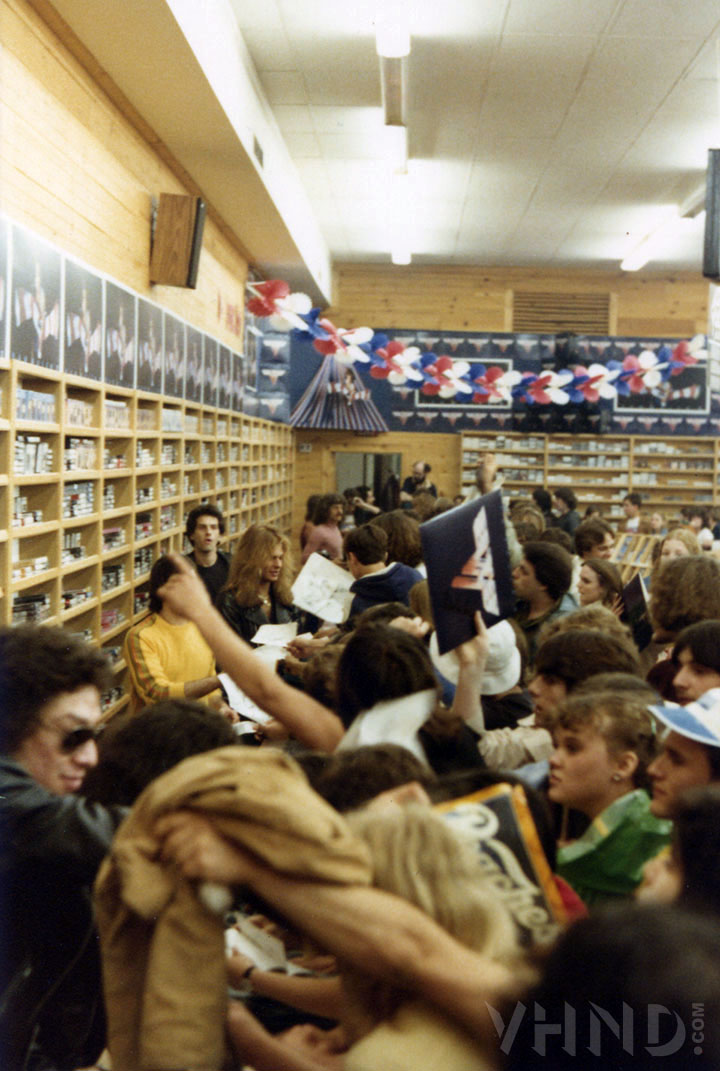 The aftermath…