Michael Anthony, Steve Smith, Neal Schon, and Eddie Van Halen on tour together in 1978
First, we at VHND want to congratulate JOURNEY for their recent Rock And Roll Hall of Fame induction. Well deserved!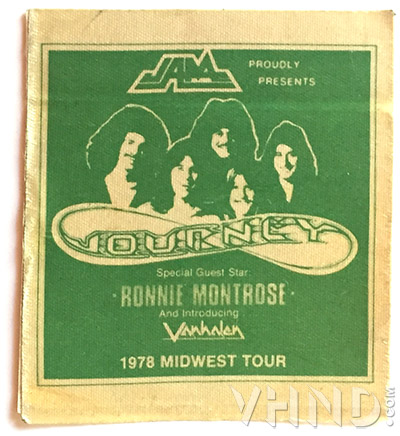 Before supporting Black Sabbath, Van Halen opened for Journey and Montrose for a few months. (Montrose was touring as an instrumental band, after Sammy Hagar departed). But not much is known about the days Van Halen toured with Journey, so we're excited to share this little-know info about that time…
As soon as Van Halen joined Journey's 1978 tour as opening act, word quickly spread that Van Halen was tearing it up with an explosive show that was the exact opposite of the droll, drugged-out performances of many of the day's top rock bands. In fact, their live show was even better than their album – almost unheard of in those days. Throughout the seventies, bands would release critically acclaimed albums, only to destroy their reputation with a poor roadshow. Van Halen was the exact opposite. A loyal following quickly developed as they stormed from venue to venue, surprising unsuspecting Journey fans with energy Steve Perry couldn't coax from himself with five pots of coffee and an eight-ball of blow.
Of course, getting to open for Journey throughout the United States got Van Halen a ton of exposure. While they considered themselves lucky for the opportunity, they now would be earning just a few hundred dollars a night, playing brief half-hour sets with dodgy sound, when they were used to raking in thousands selling out clubs back in Hollywood. The desire to succeed had brought them to the top of the barrel, but now they flopped over into the very bottom of a much bigger pool. With sets as short as six songs some nights, no catering, short soundchecks, or even no soundchecks at all, the band didn't exactly have it easy.
Therefore, the Van Halen boys took it upon themselves to steal food, and sometimes girls, from Journey's backstage area while the host band was onstage. In fact, when they destroyed the seventh floor of the Sheraton Inn in Madison, Wisconsin — throwing televisions out of the windows and having fire extinguisher fights in the hallways — they blamed the incident on their tour mates, Journey!
Years ago, we interviewed one of the few VH roadies who were part of the 1978 tour, for an article in "The Inside" Van Halen magazine. According to him, it wasn't long before Journey was afraid of the wild Van Halens, and consistently tried to throw their opening band off the tour for repeated trashing of hotels and dressing rooms. [Maybe the word "afraid" is taking it too far, but we can see how Van Halen's crazy behavior probably made them feel a bit intimidated or overwhelmed.] Sometimes, the damage bill from hotels was greater than the price of all the rooms combined! The fact that many audiences were more animated during Van Halen's set than Journey's made the destruction even more difficult to swallow.
To further annoy Journey, Van Halen had their minimal road crew hard at work in the audience during the show. During Van Halen's set, crew members handed out dozens of large buttons with the VH logo on them to all the best looking girls in the audience. They also distributed backstage passes to the hand-picked beauties. By the time Journey hit the stage, they would look out and see that all of the best looking women in the crowd — all wearing Van Halen buttons — were apparently there to see the opening act! Then, after finishing their set and returning backstage, Journey would find a bevy of hot women backstage for Van Halen, not them.
Here's quotes from Neal Schon, Steve Smith, Leslie West, and Marshall Berle about the Journey/Van Halen tour:
Despite the early rivalry, Neal Schon has fond memories of that tour after all these years.
VHND's Doug Fox interviewed Schon in 2012, and made sure to ask about that tour:
VHND: As far as lead guitarists, what's been the most competitive tour that you've ever been on?

SCHON: With other guitar players?

VHND: Yeah, with other guitar players on the bill.

SCHON: Well, absolutely I'd have to say, hands down, it was our first "Infinity" tour that we did that we were headlining, with Van Halen — that was their very first tour. It was Van Halen, Montrose — Steve Smith was then playing with Ronnie Montrose, it was instrumental — then us.

All I remember saying is I was glad that I was not following Eddie [Van Halen] back then — even though, you know, I had my flaming moments too. We were all on fire but Ed was like coming out of left field at that time and nobody knew what the hell he was doing with the tapping, you know? I mean, I sat in a bedroom and tried to figure out his stuff with a record player, slowing it down to a slower speed and the whole thing and I still couldn't — I'd never seen anybody do a triplet thing with their other hand, you know, with tapping. Until I met Ed and he showed me what it was, I was like, "You got me. This completely stumped me." And he was just on fire. You know, I don't think he ever plays bad, but in the very beginning, Eddie was just … the whole thing, those guys were just rockin'. You know, that was a great guitar show.

VHND: What was it like to see him live for the first time?

SCHON: It was just, really I was like, "Wow! This guy is so on fire!" I loved the whole attitude of it, you know? He had a really different tone than anybody back then and it was interesting. He had a lot of interesting things he did to get that sound. The power alternator, all kind of things that made the amp head get hotter, like run hotter, they sound better. They blow up more frequently, but they sound better, you know? So he was like a mad little scientist, you know? Ed and I became really close. We hung out a lot."
Leslie West of Mountain, a band Van Halen had covered before they were signed, was deep into drug problems, and claimed he had all but abandoned playing guitar until witnessing Eddie Van Halen opening for Journey in 1978.
"I'd stopped playing, didn't even want any guitars around. But while I was in Milwaukee I went to see two shows. One was because Neal Schon said to me, 'Leslie, you gotta check out this kid who's opening for us; he plays guitar like an organ, like a Bach organ fugue.' I was totally taken aback—it was Eddie Van Halen, and he impressed me the way Clapton impressed me," Leslie recalled.
Marshall Berle, Van Halen's manager during the 1978 tour, recalled Journey being blown away while watching their opening act:
"Our first tour was as the opening band on a three-act show starring Journey, with special guest Montrose. Van Halen was to start at 7:30, a horrible time to play, as people are still coming into the venue. To make matters worse, the band was only allowed to do a short thirty-minute set. It was bizarre to see the people walking into the venue while Van Halen was playing. No one had ever seen anything like them before. The band was kicking major ass, people would just stop in the aisle and watch the band with their mouths hanging open. Eddie as always was killing on guitar.
"After about two shows, the guys from Journey would start showing up at the venue so they could watch Eddie play. Neal Schon was totally blown away by what he was seeing. The other bands would stand in the wings of the stage on Eddie's side, and when Eddie started into his "Eruption" solo, the reaction from the bands and the audience was the same: total shock and awe!"
(Marshall's quote is from the coffee table photo book, Eddie Van Halen, by Neil Zlozower)
Steve Smith was playing in Montrose during that tour, and later joined Journey. From an interview:
"As it turned out, Ronnie was a support act for Journey on a 3-month tour. The tour featured three bands: Van Halen opened the show – it was their first tour – then I played with Ronnie Montrose and the headliner was Journey, it was Journey's first headline tour. They had been a support band for about 5 years, and in 1977 they added Steve Perry as their lead-singer. They made an album called "Infinity" and the tour was organized to promote that album, which went on be Journey's first platinum album, selling over 1 million copies in the USA.
"On that tour we were playing an average of 2,500 seat theatres, which were the same theatres I was playing with Jean-Luc Ponty. In those years fusion was so popular we were playing 2,500 seat theaters with Ponty! Journey was just starting out and they were playing the exact same venues. It's interesting to see the change now, how it's very difficult for a fusion band to play a 2,500 seat theatre and fill it up.
"During those 3 months in early 1978, the three bands: Ronnie Montrose, Van Halen and Journey, really hung together a lot, I got to know all of them, they got to know me and we had a lot of fun hanging together."
Journey's 1978 album, Infinity:
Journey's INFINITY album was released Jan 20, 1978 – just three weeks before Van Halen's debut.
Tracklist:
Lights
Feeling That Way
Anytime
La Do Da
Patiently
Wheel In The Sky
Somethin' To Hide
Winds Of March
Can Do
Opened The Door
Live footage of Journey, 1978:
Journey rolled through Los Angeles on February 25th to film a TV appearance on Midnight Special. This performance on nationwide tv was filmed exactly one week before Van Halen joined them on tour.
Below, watch that Midnight Special appearance, where they perform "Feelin' That Way," "Anytime" and "Wheel in the Sky."
And the opening band on that tour:
---
Awesomely retro Van Halen 1978 World Tour Shirt at Van Halen Store.