Michael Anthony (Van Halen, Chickenfoot, The Circle) received the prestigious RockGodz Hall of Fame's ICON OF THE YEAR award on October 27, during their third RockGodz Hall of Fame Induction Ceremony and Show in Las Vegas, at Hard Rock Live.
Note that Michael didn't receive a "Bass Player of the Year" award, but rather, the "ICON of the Year" award. That's because, in our opinion, while most bass players are an important part of their band's sound, Michael's background vocal contributions are uniquely vital to Van Halen's sonic footprint. We love seeing Michael to receive such recognition!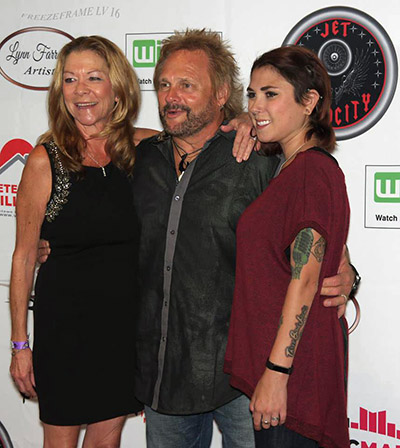 Michael's Introduction
Host Tony Franklin gave Michael are wonderful introduction. "It's somebody that I consider to be the consummate rock bass player. A rock bass player is often required to do less than their abilities. He's got Eddie Van Halen doing his wizardry, he's got Alex right there with him, David Lee Roth doing his stuff. He held it down, he drove it, he anchored it. It was so perfect. It was exactly what that band needed. I've got huge respect for that, because you've got to do what's right for the music, what's right for the song.
"But that's only half of the story. What about those great background vocals that Michael Anthony brought to them? I really saw that a couple years ago at the Rock And Roll Fantasy Camp here in Vegas, when Michael was one of the special guests. He played with like 15 Camp bands from every level, every ability. He nailed the background vocals and the sound. You realize what a HUGE part of the sound of Van Halen he was.
"The other side of the equation of Michael Anthony…and this is what all the people at the Camp said… what a super nice guy he is, professionally and personally. He's down to earth, he's real. He's the nicest Rock God you'll ever want to meet.
"And so it is my great honor and privilege to welcome to the RockGodz Hall of Fame, Mr. Michael Anthony!"
Michael's Acceptance Speech
Michael addressed the crowd, "In 1977, four guys were signed by Warner Bros records, and we all had a big dream to play the music we love making, and play to the world. And I thank God every day now, almost 40 years later I'm still here, being able to do it. Playing music for the fans, and do what I love to do.
"I want to thank my wife, my beautiful wife Sue. We've been married for 35 years. She's been with me through the whole, whole thing, oh my god! And my man "Dugie" [tech Kevin Dugan], who just got inducted, who, for 36 years, he's making me look good and sound good. He's taken a Jack Daniel's bottle to the head maybe once or twice when my shit went down, but he's been with me all this time. And thank you, thank everybody."
Dugie's Award
Note that Michael's longtime bass tech (of 36 years!) received his own well-deserved award. Kevin Dugan was presented with the "Tech of the Year" award. Great to see "Dugie" get recognition, as he truly is a legend in the business. Kevin said of Michael at the ceremony, "He's my brother and my boss, and I love him dearly." Thirty six years of impeccable loyalty in the business is a rare, special thing indeed, and Michael is extremely fortunate to have him.

Video of Michael's Acceptance Speech & Van Halen Jam
Michael and the band then launched into a powerful set of four Van Halen classics: "Somebody Get Me A Doctor" "Runnin' with the Devil" "Ain't 'Talkin' 'Bout Love" and "Everybody Wants Some". As soon as Michael's set started, the crowd, who had been watching fantastic musicians play all night, crammed to the front.
Thanks to Jonathan Scott, we have this video of Michael Anthony's set with the Jet Velocity All Star Band, made up of Jason Ebs, Janea Chadwick Ebsworth, Jeff Young and Buster Akrey. Scott Coogan jumped in on the drums for "Everybody Wants Some". Watch the video below.
Photos by Robert Robinson, Jeff Young, Tony Franklin, Victor Wolder, Jeff Young, Photography of Leah Burlington.
Rock Godz Hall Of Fame has earned a reputation for providing rock fans across the world with rock and roll memorabilia, specialty interviews, rock song downloads, rock and roll events, facts and photos about rock and roll legends such as Led Zeppelin, Black Sabbath, Van Halen, Ozzy Osbourne and other legendary Rock Gods that current customers have come to rely on. Proudly serving all cities across the United States like Los Angeles, Las Vegas, Chicago, New York, Minneapolis, Dallas, Miami, as well as Europe, Asia, Australia, and other International countries since 2010.
"A fun time was had by all at the Rock Godz Hall of Fame awards show last night. I had the honor of inducting my bass brother Michael Anthony. Good times." (Host Tony Franklin)