Announcing the new EVH Slip-Ons! Eddie Van Halen's iconic guitar stripes on a classic slip-on shoe!
Just slip 'em on and hit the ground runnin'!
Currently available only at VanHalenStore.com, where they are in stock & shipping now. Order yours here!
Low profile, slip-on canvas shoe similar to Vans.
Elastic side accents for a nice fit without the hassle of laces.
Durable canvas upper — Red with Black and White stripes.
Padded collar and footbed for added comfort, fit, and shock absorption.
Stealthy black rubber sidewall with white trim.
"5150" logo nice and big on the insole, and on the small flag label.
"EVH" logo on the back, insole, and outsole.
Left shoe and right shoe each have their own unique stripes.
SIZING: EVH shoes run TRUE TO SIZE to standard athletic shoes, so order the SAME SIZE as your regular shoes.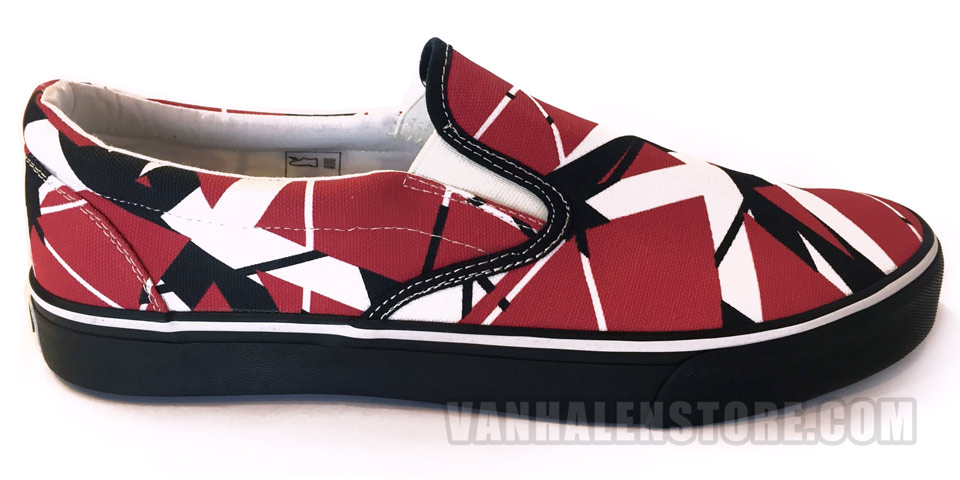 Sport the greatest graphics in rock 'n' roll; from Eddie's legendary Frankenstein guitar stripes! Convenient slip-on style for easy on and off wear.
Show off your rocker side with the new EVH Slip-Ons!