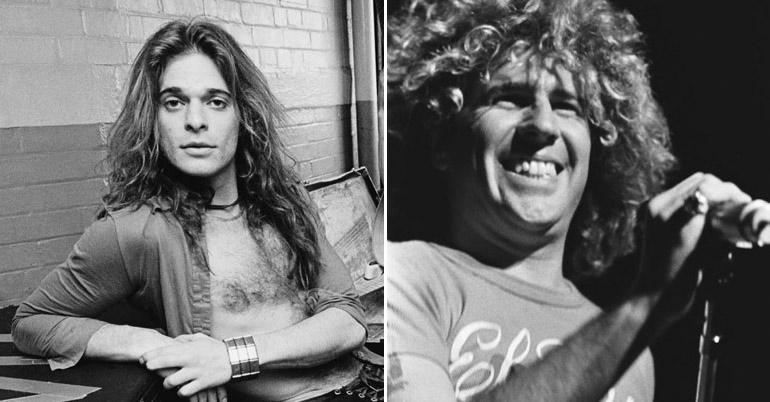 We'll never forget the first time we heard the rumor. It was 1986, just when Van Halen started doing press around the release of "5150," the band's first album with Sammy Hagar. Band members were saying that even before they recorded their first album, someone within the Van Halen camp actually thought it would be a good idea to get rid of David Lee Roth and replace him with Sammy Hagar as the group's singer!
Now, at the time, we thought that rumor seemed utterly ridiculous, and we didn't believe it for a second. Why would we? Van Halen with David Lee Roth was the absolute perfect rock band. All the parts were perfect. The guitar! The drums! The bass! The revolutionary guitar playing! That delicious brown sound! Those whisky-soaked lead vocals! Those unearthly background vocals! The clever lyrics! The humor! The sex appeal! The electrifying concert performances! Everything was perfect. You don't mess with perfection. You don't change perfection, at least if you can help it.
So, why in the world would anyone in the Van Halen camp actually want to get rid of David Lee Roth and replace him with … anyone? Why would anyone want to do that in the '80s, when they were the reigning kings of rock? Or in 1977, when Van Halen was a local phenomenon, recording its first album?
Van Halen introducing a new new singer was a lot to swallow. And now they're saying that someone in the VH camp just so happened to fantasize about this new guy being in the band a decade earlier? What serendipity! It sounded like nothing more than the band trying to convince people that its new singer was somewhat close to joining the band — maybe even meant to be in the band —from the beginning. Really?
Remember, this was the mid-80s. David Lee Roth was arguably the greatest singer and frontman in rock 'n' roll. Then he left Van Halen, and about 90% of the band's inner circle and road crew went with him. The remaining band members were reeling, but soon met Sammy Hagar, and, newly energized, were about to continue on without their larger–than–life frontman.
Would Van Halen still be huge with Hagar? With anyone other than DLR? That's what the whole rock world was wondering. But how could they be as GREAT? Even the record company was having serious doubts that the "new" Van Halen could measure up to the old. They even tried to get the band to change its name so as to lessen the inevitable comparisons between the two versions.
And then, as "5150" was hitting the shelves, the band was telling us that at least one person in their camp thought the band should call up Sammy Hagar and see if he wanted to join the band just before they were about to record their first album? Why in the hell would anyone think that was a good idea? That story didn't sound believable to anyone who was paying attention.
Yet, the band wasn't lying. The story WAS true…at least for a moment in time. The person in the VH camp who — at least briefly — thought it might be a good idea to replace the band's singer with Sammy Hagar was the band's producer, Ted Templeman.
While researching his book, Van Halen Rising, author Greg Renoff was hell bent on getting the truth of the matter from Templeman. Renoff told the Boston Herald, "Ted told me that after he heard Roth sing in the studio in early 1977 on some demos commissioned by Warner Bros, he started having serious concerns about Roth's vocal ability, hence the flirtation with calling Hagar. But Ted made clear that this was nothing more than a thought that he toyed with for a few days in his own head. Roth, as I document in the book, redoubled his efforts to improve his voice by taking vocal lessons in 1977. The other key point is that Templeman says he knew that the other three never would have tolerated the idea of kicking Roth out for Hagar."
Thirty years later, it makes a lot more sense to us than it did in 1986. We absolutely LOVE Roth's voice on those classic Van Halen records — it's the perfect complement to the music. But we admit his voice doesn't sound nearly as good on bootlegs from the band's club days as it does on their albums.
So we can see why Templeman was a bit concerned with Roth's voice after listening to Van Halen's early demos. He wasn't sure Dave could sing well, but he knew someone who could. Ted knew Sammy Hagar from producing the first Montrose album — an album Van Halen loved — so that's why Sammy came to mind. But Ted only thought that for a short time, and although he mentioned the thought to one or two people, he never brought the idea to anyone in the band.
So how did things change? Renoff states in Van Halen Rising, "While Templeman ruminated, Roth refused to rest on his laurels. While many aspiring rock stars under contract with Warner Bros. might have gotten lazy, Roth worked hard. Within weeks, Roth's creative mind, clever lyrics, and improved vocals had convinced Templeman that Roth had all the requisite tools to front Van Halen."
Renoff talked to multiple people who knew the band in the '70s who said Roth took vocal lessons before they recorded the first album, and he practiced religiously. After a few weeks, Templeman had a change of heart about Roth's singing, and he came to love Roth's songwriting.
Templeman told Renoff, "I knew Dave had something to say. He had a lot of depth and comedic skills. He was pretty amazing. He was a great lyricist. And I knew he was smart. And that's hard to come by, someone who's really, really bright like that. Sammy was a great singer, but Dave was a great writer."
And the rest is history. Van Halen recorded one of rock's greatest debut albums, one that would make them America's hottest young rock band just months after its release. And they went on to massive success with both singers.
---
VH fans should be sure to grab Van Halen Rising –– the book is absolutely loaded with details on Van Halen's beginnings that even the most knowledgeable fans have never heard. And Van Halen Store has author–signed copies, so get your copy today!