The home where Eddie and Alex Van Halen grew up in Pasadena, as it looked in 2013. (Photo: Karen Nuremberg Sonner)
A very unique story from 35 years ago today, by VHND contributing writer, Doug Fox. Written for VHND and The Editing Room Floor:
Click, snap, clack, pop, clink …
There's a lot of things that go through a teenager's mind while standing on a doorstep at the house where two burgeoning rocks stars live on the afternoon of their biggest concert to date — most prevalently, "What in the world are we doing here?"
But the thing I remember most in those nerve-wracking moments between a false-bravado knock and the door opening is the mesmerizing metallic mash-up of a half-dozen locks being manipulated in well-worn sequence on the other side.
Click, snap, clack, pop, clink …
The date was Oct. 7, 1979 — 35 years ago today — and there we were in front of an otherwise nondescript house on Las Lunas Street in Pasadena, California, waiting for the changing of the locks to run its course and the door to finally swing open at the family home of Eddie and Alex Van Halen.
That date is an important one in Van Halen history as it marks the night the four members of the little ol' rock band from Pasadena officially became masters of their Southern California domain, musically speaking — headlining their first show, a sellout at that, at the L.A. Forum in Inglewood.
Everyone who has ever dreamed of being a rock star has probably pictured the scene in their mind of performing at the preeminent concert venue in their home market. In Southern California in the 1970s, that place was the Forum — or as it was more commonly referred to, the Fabulous Forum or "The House that Jack (Kent Cooke) Built."
The Forum may primarily have been the home of the Los Angeles Lakers, but the reigning rock bands of the day held court there as well. Led Zeppelin, the Rolling Stones, Elton John, Peter Frampton, Queen and the Eagles all sold out multiple-date runs at the venerable venue during a period when maxing out even one show was a sign that you had made it in the rock world. The prestige of headlining the Forum was certainly not lost on the four members of Van Halen, as they themselves had attended major concerts there as rock fans growing up in SoCal.
So what was it that brought four increasingly timid-by-the-second teenagers — Curtis Edwards, Bob Sebesta, Mat Yeates and myself — to the conclusion that visiting the humble Van Halen homestead eight hours or so before the band's impending homecoming coronation was somehow a good idea?
Funny you should ask …
They Really Got Me
My own evolution as a Van Halen fan has been religiously documented before — from the slack-jawed amazement of hearing "Eruption" for the first time to the life-changing experience of seeing the "bastard sons of a thousand maniacs" (as they were introduced on stage in the early days) in concert for the first time. That first concert experience — occurring in Logan, Utah, on March 31, 1979 — came in the initial week of the Van Halen II tour, the band's first headlining jaunt. The triumphant show at the Forum was just over six months later — and, fittingly, it marked the tour's closing night.
That intervening half year served to cement my allegiance as a VH lifer — the band was just different than anything I'd previously heard or seen. I don't suppose my experience is all that different from millions of other fans who — whether they were struck by Eddie Van Halen's otherworldly guitar wizardry, David Lee Roth's vocal swagger and outsized personality, Michael Anthony's enthusiastic bass thumping and general class act-dom, Alex Van Halen's sheer power and technique behind the drums, or simply wowed by the collective talents of all four in one explosive entity — flocked to the VH bandwagon in ever-increasing numbers.
So as to not tread too much on past writings, you can read a lot more about that Logan show, not to mention seeing some pretty fantastic photos from that night in "My Introduction to the Mighty Van Halen." Near the end of that blog post, which was written three and a half years ago, I mentioned our visit to the Van Halen home on the afternoon of their Forum debut, and said, "Ah, but that's a story for another day."
That day, as it turns out, is today.
I've told the story of stopping by the Van Halen home to various friends and acquaintances over the years, and sometimes it has grown in the retelling. I realized this a few years back when, while backstage at a concert, I overheard another one of my friends telling the story to a third party. "Yeah, and then Mr. Van Halen invited them in for a visit," I heard him say.
A few minutes later I pulled my friend aside and said, "You know that didn't really happen like that, right?"
He laughed and said, "You should let me tell the story — I tell it better than you! The next time I tell it, I will have you sitting on the couch with your feet up on the coffee table while eating chocolate cake!"
Before that happens, I thought it best to get the story in writing and clear up a few minor embellishments I may have made on my own over the years.
Atomic Punks
I grew up in Southern California, but our family moved to Utah in the summer of 1978, right after I graduated high school. Thankfully, I had caught the sonic wave of Van Halen earlier that summer a few months after the release of Van Halen I when the band broke through on L.A. radio.
Jumping forward to the fall of 1979, I was planning a return trip to Los Angeles to visit close friends from my high school years. Looking over the concert schedule, I noticed the Van Halen Forum show and immediately settled on vacation dates surrounding what I knew would be a memorable concert. However, when we attempted to actually get tickets for the show, my friends and I discovered it was already sold out. We then looked into tickets for the San Diego show the night before, it turned out that those were long gone as well.
As I recall, we checked into obtaining tickets through one of the many second-hand ticket agencies — but they were out of our price range. I kick myself now — considering that those out-of-range tickets were probably only listed for $25-$30, which, of course, is a comically low amount by today's standards. But it seemed like too much for a 19-year-old on a limited budget at the time.
Sometime in the previous months, a friend, also a VH fan, who worked for a record label in Los Angeles, mentioned having come across the band members' home addresses and phone numbers through inter-label work contacts.
Somehow, in the way only a late-teenage mind can think, the combination of us not having tickets to the Forum show and my having access to the band members' addresses brainstormed into the idea of actually stopping by the Van Halen household in Pasadena, which was maybe 20 minutes away from where we were staying in La Crescenta. With the show being in L.A., and the band having played San Diego that night before, so our thought process figured, there might be a decent shot that Eddie and Alex would be home visiting their family that afternoon. Admittedly it was a harebrained idea, concocted by pie-in-the-sky dreamers who thought maybe, just maybe, there was a small, outside chance that we would be rewarded for our creative enthusiasm with extra tickets to the show or at least come away with a good story to tell.
As it turned out, it was the latter.
One Foot in the Door
So it was that the four of us piled into a car and drove to Pasadena that sunny Sunday afternoon of October 7 with an address and a map. We were in high spirits to begin with, but the closer we got to our intended location, the more the absurdity of our intended mission began to settle in on us like stink on a monkey. (I've always wanted to say that!)
We found the house, located in what appeared to be a quiet working-class neighborhood, and executed a slow drive-by just to check it out. By this time, of course, our previous happy-go-lucky attitude had completely deserted us, giving way to nervous anticipation.
We noticed a back alleyway, and as a further delaying tactic we drove around there to check things out from that angle. Counting down the number of houses from the corner, we looked into the back yard and noticed a boat — which seemed out of place in comparison to the rest of the neighborhood.
"That's it!" I confirmed, immediately remembering a Circus magazine interview months earlier where Eddie mentioned that the first big purchase he and Alex really made when the VH II and tour headliner money started rolling in was a boat for their father.
And … there … it … was.
There was also a small garage/shed structure at the back right corner of the yard. We didn't fully realize it at the time — I mean, even we could not have projected the band's eventual Hall of Fame trajectory at that point — but that little structure is somewhat of a musical mecca for hard rock fans, and a Graceland of sorts for guitar aficionados.
It was there where the Van Halen brothers not only honed their chops — and, I imagine, annoyed a fair share of their neighbors — with hours of jamming, but also where Eddie had brought his iconic black-and-white-striped red Frankenstein guitar to life six months earlier. Music and technique developed in that humble structure would go on to shake the foundation of rock, not to mention the walls of arenas around the world.
Having put off the inevitable as long as possible, or so we thought, we drove back around to the front and parked several houses up the street. We got out of the car and began a slow walk down the sidewalk toward the Van Halens' home. It was at that point that our nerves entirely left us.
Somewhere in our plodding journey to the front door, there was a short retaining wall/ledge that we all sat down on for several minutes, trying to gain our wits and build up the confidence to actually go through with our mission. We nearly called the whole thing off right then and there, but we finally pep-talked ourselves back into action, stood up and headed on the pathway leading to the door.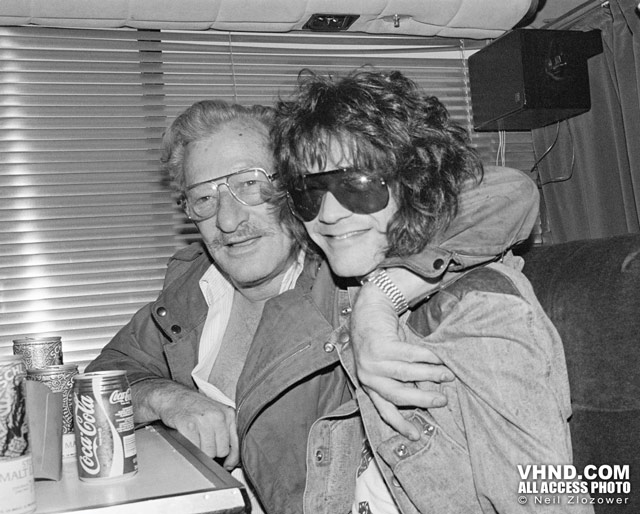 Eddie and his father Jan Van Halen
You know how there's always those few moments after you knock, especially if you are cold calling and your visit is unexpected, where you listen intently trying to discern any movement inside? I'm sure at that moment we were all hoping to hear nothing but silence throughout the house. That sensation had us on edge, but gave way to near panic when we heard the locks begin turning.
Click, snap, clack, pop, clink …
We had no idea who would be on the other side of the door, but when it swung open it revealed Jan Van Halen, the VH family patriarch.
We could not have been any more awkward.
"Are Eddie and Alex home?" one of us stammered.
Our immediate impression was that Mr. Van Halen was slightly perturbed — and believe me, looking back on the whole thing over the years, he had every right to be.
"No," he said bluntly.
Our whole encounter could have ended right there as we were more than ready to immediately slink back to our car, feeling like we'd just been denied entry to see the Wizard of Oz.
But then everything changed with one question and answer.
"Are you friends of the boys?" he asked.
"Of course!" I found myself blurting out with very little thought. I mean, what were we supposed to say? "No, we're just idiot fans who thought we'd stop by your home for a visit on one of the most important days your family will ever see in the hopes we might impress you enough that you'll offer us some extra tickets?"
Whether he believed us or not — and as unlikely as it seems, he must have — Mr. Van Halen's whole demeanor changed in an instant. All of a sudden he was warm, friendly and engaging.
Details of the rest of our 4- to 5-minute conversation have faded from memory except for one specific exchange, which, to me, really showed the elder Van Halen's personality.
We explained how we thought that with the Forum show being that night, and the band having been on the road for months, that there would have been a good chance that his sons would have been home visiting that afternoon.
"You would think!" he said, letting out a big laugh and shaking his head with exagerrated sarcasm as he went on a playful mini-rant. "The boys never come by here anymore!"
I think that part of the conversation has stayed with me because it proved so painfully poignant. Here was a man who was a professional musician himself, on the cusp of seeing his sons validated with a soldout show at the Forum, yet it was obvious that he also missed having them around. His sarcastic overplaying of the comment showed his humor and acceptance of the circumstances, but couldn't completely mask the truthfulness of it either.
After offering our best wishes for that night and bidding farewell, we started back down the path. After a few moments of relieved silence, one of my friends burst out, "Whoa! Did you see all the gold records on the wall?"
The other two animatedly jumped in in the affirmative. "Man, that was cool!"
Previously when telling this story, I have always mentioned seeing all the gold records on the wall. But here's the deal. I never saw them. Not a single one. But since my other three friends had, so I simply combined their eye-witnesses into my own account.
I kind of felt cheated. The original "Van Halen" debut was an album that changed my life and forever altered my musical listening habits. How cool would it have been to see the official gold record commemorating it — not to mention many others apparently — hanging on the wall of two people who actually created it?
For most of the past 35 years, I have asked myself, "How in the world could I have missed seeing those records?" In my memory, I can still see past Mr. Van Halen and onto the main front room wall. But no gold or platinum records.
It wasn't until I asked my friends for their memories of the visit a year or so ago that I finally figured it out. I had always assumed they shared similar lines of sight. That proved to be inaccurate. The gold records, they said, were lining the walls of a hallway, and not those in the front room. The angle of the partially closed door must have blocked that view for me.
It felt good to have some closure on a question that had always bothered me regarding our visit.
The view from the street of the gated Roth mansion in 2013. (Karen Nuremberg Sonner)
Somebody Get Me the Doctor
Emboldened by what we viewed as a pretty positive experience at the Van Halen abode, we did the next obvious thing — and pulled out David Lee Roth's address. His home address was also listed in Pasadena, so we figured why not give it a try since we were already in the area?
The Roths and Van Halens were only separated by about 5 miles in distance, but their separate ways were worlds apart. Where the Van Halens lived in a nondescript, regular home, the Roth compound was a huge, mostly unapproachable mansion.
There was a gardener on a nearby part of the sprawling property, so we sent one of our party over to chat him up. That effort was pretty much foiled when it became apparent the gardener only spoke broken English.
"What happened?" we asked when our friend returned to the car.
"I asked him if David Lee Roth was home," he said. "And he said, 'Dr. Roth?'
"And I said, 'No, David Lee Roth.' And he shook his head and said, 'No. Dr. Roth not home.' "
That was that. Besides, we figured if the Van Halen brothers were too busy to stop by their home base on the day of the show, the chances that Roth would be setting up Club Dave at his dad's mansion were slim to shady.
Michael Anthony's home address was listed in Monrovia, which was a bit of a distance away. Based on the intel we had received from our first two stops, we figured he wouldn't be home either. So, we left well enough alone, and recognized our visit with Jan Van Halen as the rare opportunity it was, and the clear highlight of our Sunday-afternoon-on-a-lark adventure.
Heard About It Later
Sometime in February or March of 1994, I was driving home following a late-night shift on the sports desk at the newspaper where I still work. Being completely wound up from deadlines and knowing I'd be unable to sleep for several hours still, I stopped by a 24-hour supermarket to peruse the magazines.
My eyes immediately settled on a magazine cover featuring a dynamic live shot of a young Eddie Van Halen in classic soloing pose with his guitar neck pointing toward the heavens while playing his "Bumblebee" guitar during the VH II tour. It turned out to be a Best of Guitar Player special edition, devoted entirely to Van Halen and included text from several previously unpublished interviews by Jas Obrecht culled from the band's early years.
Arriving home after buying the magazine, I settled into bed and began reading (and reading and reading … ) the unpublished interviews section. Eighteen pages in, I read something that literally made me sit up in bed with a start.
I read it over and over, continually running the comment and its ramifications through my mind to make sure I wasn't misunderstanding something.
In this previously unpublished interview, from late December 1979, Eddie was talking about two new guitars he'd purchased and the dilemma he faced in where to store them.
"Right now, I'm trying to figure out where to keep them," he said, "because when we played the Forum, my mom and dad came. And when my mom came home, the house got ripped off for about 20 gold and platinum albums."
That's screwed up, he continued, "because playing the Forum is like a dream come true. I've seen everyone play there. It was a hell of an event for me, and I come home and the back door is smashed in and all the records are gone. It's such a drag."
I couldn't believe what I was reading. Were we literally some of the very last people to see those records on the wall before they were stolen? At that point, I had to remind myself that I hadn't actually seen them. (Thanks, self!)
But still … our experience, I figured, gave us a unique empathy for the personal nature of that loss.
Having stood on the front porch of that home hours before the landmark show and having personally felt a father's excitement and seen the pride in his eyes first-hand — in a weird way, I, too, felt sucker-punched by the turn of events following that first Forum concert, even though I was learning about it more than 14 years later.
To this day, I still ask myself, "I wonder what happened to those records?"
Postscript: Your Last Loose End
It's cool to me how the events of that day tend to keep on giving as the years go by.
For example, in a Facebook conversation with a high school friend several years ago, she randomly dropped the nugget that her father had sold Eddie and Alex Van Halen a boat for their father.
I'm sure she was surprised when I mentioned having actually seen the boat in person.
Vicki Adams Dorosy said she remembers the day her dad came home saying how impressed he'd been with two young musicians who had stopped into his Sportsmen's Paradise shop in Monrovia wanting to buy an ocean-going fishing boat (a Grady Little) for their father with their first big paycheck — and then he wondered if any of his kids had ever heard of a band called Van Halen. (They had.)
Jan Van Halen died in 1986 at the age of 66. The minutes we actually spent being entertained by him back in 1979 may have been few indeed, but it provided enough of a window into his personality to say the impression perfectly jibes with the popular stories most Van Halen fans know of him.
Like the time he passed the hat around the audience while his young sons performed but only gave them a portion of the collected funds. When Eddie and Alex asked what happened to the rest of the money, the elder Van Halen responded, "Welcome to the music business!"
I can also see the man who gave Eddie his first shot of vodka and first cigarette at the age of 12 in an effort to help calm his nerves before performing, yet unknowingly turning him on to a pair of vices that would rob him of many prime years of productivity while battling addiction.
But mostly I can see the man who some eight hours or so after we'd met him was reduced to tears sitting at a monitor board at the Forum while watching Eddie perform his extended guitar solo before 18,000 adoring fans.
"He was so proud," Eddie would tell me later when I asked about that night.
Yeah, I would eventually meet Eddie and Alex Van Halen — some 15 years and 348 days after I'd met their father.
Ah, but that's a story for another day.
Note: This article is dedicated to Curtis Edwards, Bob Sebesta, Mat Yeates, Ted "Theodore" Logan and Bill S. Preston, Esq. — my fellow excellent adventurers.
This article was written by Doug Fox for VHND and The Editing Room Floor.