On this day in 1978, Van Halen performed Bill Graham's Day on the Green Festival in Oakland, California. Here are several LIVE photos from their blistering set!
Van Halen took the stage after AC/DC and delivered a slightly abbreviated set, since Pat Travers, Foreigner, and Aerosmith would follow them. Even then, the young and hungry band had the balls to play two songs that still hadn't come out yet—"D.O.A." and "Bottoms Up!"—those would come out on Van Halen II, the year after. Angus Young from AC/DC on Eddie Van Halen: "AC/DC played on a bill with Van Halen back in 1978 for a Bill Graham Day on the Green show. I didn't know much about Van Halen then except that I remember seeing film clips of them, especially the one of Eddie playing the solo piece, 'Eruption,' and I was very impressed. (See all of what Angus said about Eddie HERE).
Eddie Van Halen recalls: "AC/DC was probably one of the most powerful live bands I've ever seen in my life. The energy…they were unstoppable. I'll never forget our first big tour. We had an offer to do a "Day on the Green" [a Bill Graham concert production held in Oakland, California]. I think Aerosmith and Foreigner were co-headlining. We had our own trailer, and next door to us were AC/DC, who were also playing that day. I was sitting in my trailer and heard this rubble-pounding noise from the stage. I went up there and saw 60,000 people bopping up and down at the same time. Angus did his incredible wind-me-up-and-let-me-go dance and Bon never moved, except for his hand swinging, and he sounded exactly like the record. I was standing on the side of the stage thinking, "We have to follow these motherfuckers?" They were so fuckin' powerful, but I remember feeling that we held our own. I was really happy. It blew my mind. I didn't think anybody could follow them." (Quote from Jan. 1997 Guitar Player)
One fan wrote down every band's setlist: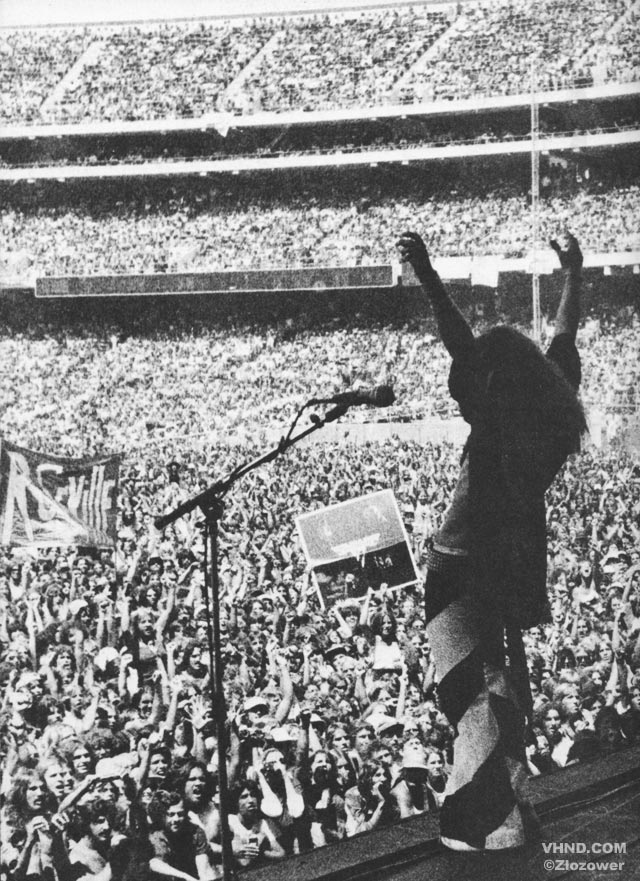 \
Want to own some killer shots from this gig? Pick up the two hardcover Van Halen photo books by Neil Zlozower— Van Halen: A Visual History 1978-1984 and Eddie Van Halen. The only place that stocks both of these must-have books is VanHalenStore.com.
Now you can get an exact replica of the tee from Van Halen's 'Day On The Green' show! Order HERE.
For more info about this show, and many killer BACKSTAGE photos, see: