Exclusive: Before Van Halen exploded in 1978 and started being featured in national music magazines, a small rock fanzine covering mostly local Los Angeles bands scored an interview with the lead singer of Van Halen. This interview took place backstage at the Whisky A Go-Go, in September of 1977, nearly half a year before Van Halen's first album hit the record stores!
Raw Power magazine (billed as "a magazine for Kickass hard rockers") was a mostly underground publication covering punk and hard rock music, founded in 1976 and run by three sixteen-year-olds  in Woodland Hills, California; Scott Stephens, Robert Olshever, and Murray Schwartz. Their Oct.-Nov. 1977 issue featured the DLR interview. Roth already had his schtick down and shelled out some classic quotes which you can enjoy below.
We spoke with the magazine's founder, Scott Stephens, who said young David Lee was "Super charismatic! He blew our minds. It was as if he was from another planet. Everything just flowed out of him. There was no such thing as a dumb question, because his answers were always great.  The guy was very charming and intelligent. One of the most fun interviews we ever did."
This DLR interview is historic in that it is the earliest known interview or article with Van Halen! And how cool is it that three longhaired seventeen-year-old rocker dudes conducted the interview?!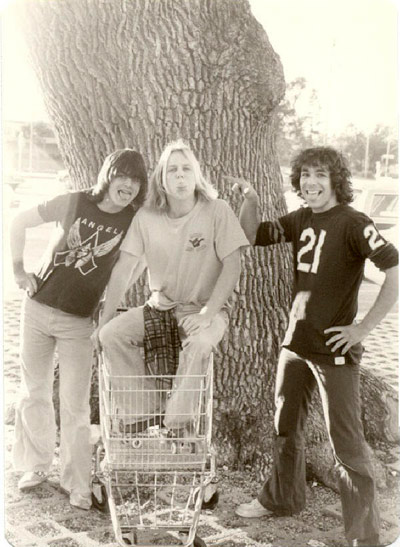 Titled, VAN HALEN: Today L.A. Tomorrow the Galaxy
An interview with Dave Roth of Van Halen
Raw Power caught Van Halen, one of L.A.'s best bands, in between sets at the Whisky and rapped with vocalist Dave Roth about the band. Van Halen is: Dave Roth (vocals), Edward Van Halen (guitar), Mike Anthony (bass), Alex Van Halen (drums).
Dave Roth, vocalist of Van Halen talks about their background:
"Van Halen started in bars playing top 40 and shit. We started in little bathroom places and now we're at the Whisky, and we're probably gonna take over the world, soon as our record comes out on Warner Bros. The producer is Ted Templeton. He has produced all the Doobie Brothers, the first two Montrose LP's, the latest Little Feat, and the next project is gonna be Van Halen. The record will probably be out when school gets in, or in January."
What are your major influences?
Our major influences are my cock, Schlitz Malt Liquor, fast cars, loud music, volume. You know, all the usual.
Who does most of your writing?
It's a group thing. The whole group writes. I usually think of the filthy words and Ed usually thinks of the basic filthy music. By the time the song is finished it's a group thing.
What bands do you guys hate?
The bands that we hate are the bands that give us trouble. Just about everybody we've played with so far is stinky, without naming any names. They all hate me anyhow. "Can't speak to Dave." I'm gonna make a button some day that says, "Can't talk to Roth."
What will your album be titled?
Our album will be titled "Van Halen" so the world can be familiar with its new leaders. And the second album will be, ah, you know – "Terrestrial Truths," or some bullshit.
What do you think of L.A.?
I personally would like to say that I think 10 percent slower since I started rockin' in L.A.
What is your favorite local band?
Van Halen, I think would qualify. We're still local. We value that, still underground. New York has Television, L.A. has Van Halen, whether they like it or not.
After the album, do you plan to do a major tour?
Oh, absolutely. We're gonna do major tours all over the galaxy man. We're gonna do Solar Systems, we're gonna explore space, the final frontier. Man we're gonna seek out the unknown, and life where it exists, we're boldly gonna go where no rock band has ever gone before.
What planets have you visited?
Ah, we haven't been…oh yes, we have. We were in Pomona last week. That's another planet.
Have you ever been in any other groups before this?
New Wave, Old Wave. I'm gonna tell ya, man, the '80s are here and I'm the air conditioned pioneer. We're gonna lead the wave man. We're gonna surf the wave; we're gonna hang ten on the new wave; we're gonna ride that wave all the way up the beach onto the street. We're gonna grab some honeys in some bikinis, and take that new wave all the way to the other side, man. How's that?
Who formed Van Halen?
The Lord, on the first day. No, man, Van Halen was always together. You know – the Van Halen brothers – Edward plays guitar and Alex plays drums. They've been playin' together for a long time. I've always been jumping around making a lot of noise. Mike Anthony, our bass player, lives right next door to everybody, so we just got together and decided, you know, to get workin', try to make enough money to save up and get some motorcycles.
I'm out of questions. Say something.
Yes, kids, it's no use trying to put it off. Van Halen is here, and you're just gonna have to start saving up your allowance for the record. It's gonna be out pretty soon. It's gonna have a whole bunch of neat songs on it about sex, drugs, world travel, violence, you know. We're out there. We just want to make music – loud noise, man, loud noise. Loud noise, man.
About these rare photos:
Last but not least, what makes this feature greater still is the fact that it included two photos – one of Eddie and one of Dave – that were both taken during the band's club days in 1977. Naturally, any pre-1978 photos are rare, and thus a real treat. Because of the limited print quality of the original magazine, which was newsprint, the two photos in the article are pretty blurry. But it just so happens that we at VHND happen to have the actual prints that were given to Raw Power magazine. So we have scanned the original prints ourselves for much better detail. Until this VHND article, these two photos have never been published anywhere but Raw Power magazine and in a 1977 flyer for a Van Halen club appearance. Photos by Murray Schwartz.
About Raw Power magazine:
From 1976 to 1979, the magazine managed to pull off some classic interviews and even altered the course of rock history. The teenage trio of Scott, Robert & Murray and their ever growing entourage were regulars at clubs like the Whiskey A Go-Go on Sunset Strip and the Starwood in West Hollywood. They sometimes hung out with legendary KROQ DJ Rodney Bingenheimer. You can check out old issue of Raw Power magazine here (click on the magazines on the right for PDF files of the issues. This was the only VH interview they did.)

Scott's current project/band, Liquid Blue, is a very cool band that's actually in the Guinness Book of World Records for playing in more countries than any other band! Check them out at www.LiquidBlueBand.com.