On this day in 2006, a grandiose event occurred at the famous 5150 estate. Eddie Van Halen hosted an extravagant and decadent party to celebrate the release of a friend's movie release. The friend was Michael Ninn, and the movie was Sacred Sin. The movie was actually adult film, and much to everyone's surprise, Eddie Van Halen contributed two music tracks to the movie.
We had been among the lucky invitees, as we run the Van Halen News Desk and VanHalenStore.com. We had been to Eddie's "5150" Studio a couple times before to conduct interviews for The Inside magazine, but never thought we'd be invited to his house! This was an unexpected opportunity. Rumors were that Eddie was even going to play on a stage, set up right in his own backyard! There were going to be a lot of rock stars, adult film stars, all kinds of amusing people. Needless to say, we wouldn't miss it. The following is our account and our photos of the unique event, so that our readers can experience it as much as possible without actually being there…
The invite-only attendees met in a huge parking lot and were shuttled up to the Eddie's mansion in the Hollywood Hills.
First impressions of the home… large electronic gates led to a very steep driveway. At the top of the driveway was an amazing home all decked out for the party. There were hundreds of fresh flower displays, rose petals everywhere, thousands of votive candles lit all over the entire estate.
We entered the party up the steps and through the front door. Just inside the door was a huge open bar. Drinks in hand within seconds of entrance. To the right was Eddie's Library/Piano room. There was his grand piano and floor to ceiling bookshelves. From the cathedral ceiling were Cirque De Sole type entertainers swinging and flipping around on a black hanging rope/swing apparatus.
The next room we entered was the main living area. As we began to take in the atmosphere of the room, we were surprised to spot Eddie sitting on a couch and surrounded by people, playing his 5150 guitar! With several hundred guests, we didn't expected that Eddie, sitting back and strumming his guitar, would be one of the first things that one would see.
What to wear to Eddie's party? Paint and feathers!
You could hardly walk ten feet without running into either a girl wearing only paint and feathers, hot girls passing out hors d'oeuvres, or dripping wet girls who had just come in from the pool outside, either looking for the bathroom or perhaps another drink.
It also seemed that you couldn't walk ten feet without running into Eddie Van Halen himself, as he did a very impressive job running around, from guest to guest, meeting people and posing for pictures. He spent at least a quick moment with each one of the hundreds of people who approached him.
Eddie looked cool. Frank Meyer from The Feed put it best: "He was happy as a clam, posing for pictures with anyone that asked. Eddie looked great … every bit the ageless Guitar God you'd want him to be."
Eddie spent much of the night mingling, socializing, and joking around with all of the guests. He could not have been nicer or more accommodating to everyone. We actually spent several minutes just watching Eddie get bombarded by people. It was strange. All night long, whatever room he was in, people would surround him, and the crowd would grow & grow. We wondered if he felt a little bit like an animal in a zoo, with everyone wanting a quick photo. Nevertheless, he patiently posed for photo after photo after photo. He welcomed all of us openly into his home and seemed like an old friend to everyone. He was very pleasant and accommodating.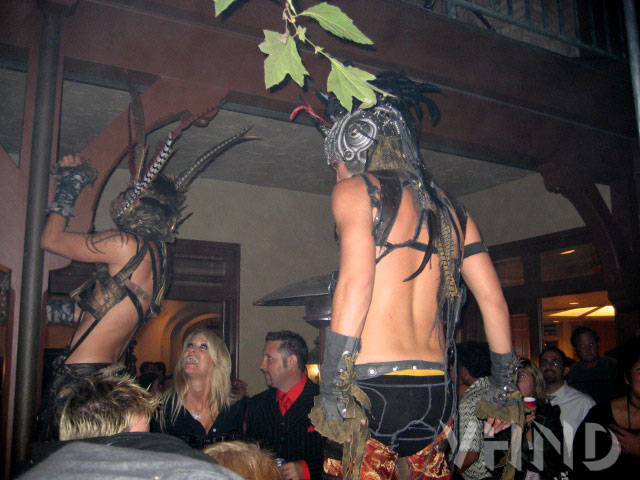 Some of us saw Guns 'n' Roses keyboardist Dizzy Reed playing Eddie's grand piano. We heard rumors that actors Owen Wilson, Shannon Elizabeth, and James Woods were also there, and they could have been, but we didn't see them.
While walking through the mansion, we noticed that Eddie apparently didn't mind leaving a lot of his awards out on display, in plain view of everyone at the party. There was a grammy Van Halen won, a couple MTV awards, and mini replicas of same of his famous striped guitars. Family photos adorned the walls, mostly of his son, Wolfgang. Other features of the home included an indoor racket ball court that was converted to an art studio for the party, indoor gym, large gourmet kitchen. Although it certainly was a grand estate, it really felt cozy and comfortable too.
Outside, the landscaping and lighting were unbelievable. There were hundreds of colored Christmas type lights and candles, giving the whole backyard almost an unearthly feel. Asian lanterns were everywhere, more flowers, more rose petals, more male & female Cirque De Sole entertainers were suspended high above the revelers, in trapeze type-devices, performing acrobatics. Large open bar areas stocked with exotic liquors, and cocktail waitresses passing out g-string panties and shots of tequila.
The main attraction was the stage, flanked by more small stages with girls dancing. Eddie didn't waste any time – early in the evening, he jumped onstage & welcomed everybody to the party, inviting them all to "get hammered & have fun". He then proceeded to kick ass on the guitar for about 40 minutes, jamming with the LA based all star band, Starfuckers, featuring Eric Dover of Jellyfish and Slash's Snakepit and former Motley Crue singer John Corabi. This was one of Eddie's only performances since Van Halen's last tour in 2004, so this was a truly a rare treat for the fans who were there.
Ed played great and was clearly enjoying himself. He ended the show with his famous flying scissor kick. He then smiled to the crowd and said "Now that was FUN!"
After Eddie left the stage, the entertainment sure wasn't over… an attractive woman took the stage who was literally breathing fire! She was later followed by girls dancing half naked, who were in turn followed by female fire dancers in outrageous outfits.
The large outdoor swimming pool was pretty amazing, as many women, some topless, were swimming around, and some of them sliding down the amusement park-sized water slide. Some of the girls in the pool were getting really friendly with each other. We'll leave the details up to your imagination.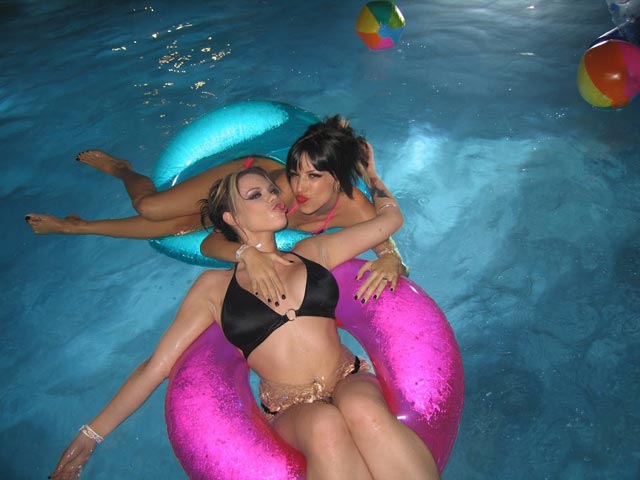 Not too far from the pool was a lovely gazebo with a swing chair, overlooking the house and pool. Near the gazebo was a large fake cow(!) that we posed for a photo with.
Later, some guests who were congregating near the grand piano got a real treat, when suddenly, Eddie walked in the room, sat down at the piano, and started playing it effortlessly. He played an amazing piece for a couple minutes and then abruptly stopped and said, "I need some more cigarets", and then was gone. We were actually shocked at how breathtakingly beautiful the piano piece was. Ed seemed like a kind of mad scientist genius; he darts in the room, and even during a a spur of the moment tickling of the ivories, an explosion of emotion and melody comes pouring out of him. And then he disappeared. People were in awe.
Eddie had a drum cymbal displayed on the wall which was signed by his brother Alex. Alex wrote:
"3 Easy Steps To Becoming A Wealthy Musician:
1) Practice
2) Practice
3) Find Oil!"
The party ended in typical "Hollywood Style" when some woman who "indulged" a bit too much puked all over the place and then passed out. She was then carried outside with her dress pulled up exposing the fact that she elected to skip wearing panties that evening. We made our way out of the party and down the driveway at the same time that the fire truck and paramedics were arriving.
The party lived up to what anyone could have imagined – going to a rock star's house for a crazy party in the Hollywood Hills. The event was definitely outrageous & surreal  – a fun and outrageous night that no one present will ever forget.
Keyboard guru Derek Sherinian was there too, and posted this on Facebook today:
We hear about "bucket lists" and "dreams come true".

10 years ago tonight thanks to Stefan Adika, I crossed a HUGE one off my list and got to play with Edward Van Halen!

I will fast track the story-
Stefan's band "The Starfuckers" was hired to play a private party, a at Van Halen's house. Stefan knew how much of a Van Halen fan I was, and put me on the gig!

So the day before the party, there was a "rehearsal" at Ed's house. It was absolutely surreal. The best part of this whole experience was that somehowBrian Tichy (who was on the gig) and I ended up alone with Ed in his 5150 studio for an hour!!

The famous "Shark" guitar on the back cover of "Women And Children First" is hanging on his wall, along with many other recognizable guitars of his. He starts telling stories and "philosophizing" to Brian and I, and we are just looking at each other like " Is this really happening?"

The party the next night was insanely fun.

A night to remember for sure- Thank you again Stefan!