Van Halen will headline Australia's Stone Music Festival at Sydney's ANZ Stadium April 20th (Billy Joel is headling the second night, on April 21st). This huge festival gig will be "Van Halen's only show" down under. This will be the first time Van Halen performed there since 1998, and the first time ever with David Lee Roth. Below are videos and posters that promote the festival.
In the interview today, Diamond Dave, as always, continues to be the most quotable rock star:
"As you may have noticed, its a little difficult – its like trying to pry a manhole cover with a tongue depressor – getting this rock band to move past American shores. … but it looks like this time we're going to deliver."
"We made all the classic mistakes…we made them beyond Elvis proportion… we broke every record possible."
"I am the son of Satan, though now my duties are largely ceremonial."
"Everybody has come for full circle to sort of appreciate the privilege that we have. We get to sing and dance for a living."
David Lee Roth appeared on the Australian TODAY show (March 15th in Australia):
Stone Music Festival promo:
Official posters: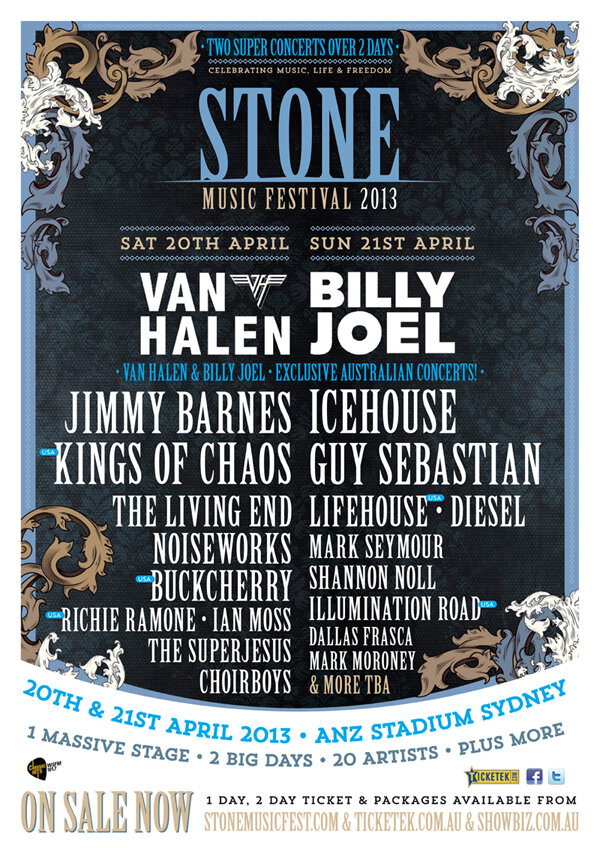 Wolfgang tweeted this photo below, saying, "Australia Prep":
Time to get excited, Aussie fans!!
More info: StoneMusicFest.com  &  Ticketek.com.au