Guitar World's STAFF has chosen VAN HALEN"S 'A Different Kind Of Truth' as the #1 album of the year!
From Guitar World:
From an impending apocalypse to the promise of a new Van Halen album with David Lee Roth, the bar was set high for 2012.

Everyone from the Mayans to Nostradamus allegedly prophesied the end of the world in 2012, but who could have predicted Green Day's epic trilogy of new albums, or Joe Walsh's first solo effort in two decades, or Rush churning out their heaviest record this side of2112?

For a year that was supposed to mark the end of an era, it's quite fitting that 2012 ended up being very much a nexus of past and future.

Aerosmith and Kiss kept the classic rock flame alive, releasing their 15th and 20th studio albums respectively, and ZZ Top issued their finest showing of fuzzed-out Texas blues in years. Meanwhile, excellent debuts from Gary Clark Jr. and Alabama Shakes — not to mention Jack White's debut solo record hitting No. 1 — proved the blues is still a vital force in the hands of true believers.

On the heavier end of the spectrum, Periphery once again upped the ante as the leaders of the new prog-metal movement, and Meshuggah reminded everyone that the groove can still be mightier than the metronome. Lamb of God and Municipal Waste forged ahead as the heads of thrash metal's new class, while legends like Overkill and Testament continued uncanny, late-career resurgences with solid efforts.

But if there's one thing to take away from the 50 albums below, it's this: The guitar is very much alive and well in 2012. It survived the rise of the keyboard in the '80s and the overwhelming bass-barrage of electronic dance music of the early 21st century and shows no signs of waning in relevancy. Whether you're still plugging into a vintage Vox AC30 with your trusty Strat or just got your hands on an Axe FX and a new Ibanez eight-string, the guitar isn't going away any time soon.

And with that in mind, the Quote of the Year award goes to one Eddie Van Halen, who summed all that up so succinctly when he said, "I'm just a guitarist in a kick-ass rock and roll band. What more could I ask for?" Amen, and see you in 2013.

NOTE: This list pertains to studio albums only.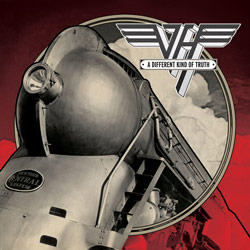 Guitar World Staff's Top 50 of 2012:
50. Overkill — The Electric Age
49. Lynyrd Skynyrd — Last of a Dyin' Breed
48. Wayne Krantz — Howie 61
47. As I Lay Dying — Awakened
46. Municipal Waste — Fatal Feast
45. Paul Gilbert — Vibrato
44. The Gaslight Anthem — Handwritten
43. Firewind — Few Against Many
42. The Contortionist — Intrinsic
41. Smashing Pumpkins — Oceania
40. John 5 — God Told Me To
39. Robert Cray Band — Nothin But Love
38. Ihsahn — Eremita
37. The Sword — Aprocryphon
36. Enslaved — RIITIIR
35. Miss May I — At Heart
34. Coheed and Cambria — The Afterman: Ascension
33. High on Fire — De Vermis Mysteriis
32. Lee Ranaldo — Between the Times and the Tides
31. The Mars Volta — Noctourniquet
30. Carlos Santana — Shape Shifter
29. Pig Destroyer — Book Burner
28. Dethklok — Dethalbum III
27. Converge — All We Love We Leave Behind
26. The Cult — Choice of Weapon
25. Alabama Shakes — Boys & Girls
24. Dinosaur Jr. — I Bet on Sky
23. Gojira — L'Enfant Sauvage
22. Kiss — Monster
21. Joe Walsh — Analog Man
20. Jeff Loomis — Plains of Oblivion
19. Joe Bonamassa — Driving Towards the Daylight
18. Between the Buried and Me — The Parallax II: Future Sequence
17. Testament — Dark Roots of Earth
16. Slash — Apocalyptic Love
15. Baroness — Yellow & Green
14. Lamb of God — Resolution
13. Deftones — Koi No Yokan
12. Aerosmith — Music From Another Dimension!
11. Steve Vai — The Story of Light
10. Green Day — ¡Uno!
09. Meshuggah — Koloss
08. Jack White — Blunderbuss
07. Gary Clark Jr. — Blak and Blu
06. Soundgarden — King Animal
05. Neil Young & Crazy Horse — Psychedelic Pill
04. ZZ Top — La Futura
03. Periphery — Periphery II
02. Rush — Clockwork Angels
01. Van Halen — A Different Kind of Truth
Another #1 for Van Halen this year!
Also, note that Guitar World's 2012 Readers Poll is still open. VH or EVH is nominated under the following:
BEST ROCK ALBUM
Most Valuable Player
Best Rock Guitarist(s)
Best Live Act
Comeback of the Year
Vote here!