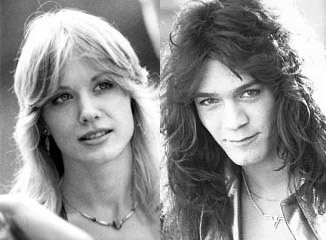 You might have heard that in Heart's newly released memoir, the Wilson sisters share their strange tale of meeting the Van Halen brothers on the road in 1979. Here's the full story from Nancy Wilson herself: 
At one hotel, we met Eddie and Alex Van Halen. Over the course of a few hours, they had a Kamikaze-drinking contest, followed by a cocaine-snorting fest. Once they were good and loose, they got into a fistfight. Moments later, they were hugging each other and falling down, saying, "I love you so much, man." They would cycle through this pattern every hour.
Eddie and Alex let it be known that if Ann and I wanted to sleep with them, they would be amenable to that. Their concept was two brothers with two sisters: lnstead of the Wil-Shers, we could now be the Wil-Halens, except they wanted us in one bed. It wasn't the only time we had that offer, and as with every other request, we turned it down.
Talking with Eddie that night, he said he really admired my acoustic playing.
"You should play your acoustic guitar onstage," I said.
"I don't own an acoustic guitar," Eddie said.
Eddie Van Halen–at that point one of the greatest living guitar players, when he wasn't punching his brother in the face–didn't own a single acoustic guitar. I couldn't believe it. But he swore it was true.
"I'm going to buy you an acoustic guitar right now," I announced.
I went and woke up our road manager. He told me that at midnight instrument stores were closed. "Then let's give him one of mine," I declared. We went to our gear truck, and I took my favorite Ovation. I walked up to Eddie's room and handed it to him.
He started crying. "That's the nicest thing anyone has ever done for me,"  Eddie said.
I went to my room to sleep. But at seven in the morning, my phone rang. It was Eddie.
"Nancy, Nance, sweet Nancy, sweetest Nancy," he said. He was obviously still high and had been up all night. "I wrote a song for you on my Nancy-Nancy acoustic guitar." He put the phone down and started to play. He was only a few rooms down the hall, so I could also hear him through the walls.
The song went on for many minutes and was truly amazing. It was more of a suite than a song, but it was beautiful. Eventually, the line went dead–I think Eddie had passed out. I don't know if he ever played the song again, or even if, when he sobered up, he remembered anything about the night, except that he and Alex didn't manage to take the Wilsons to bed. But it was the best thing I ever heard Eddie Van Halen play. I only wish I could hear it again.
-This excerpt is from Heart's newly published memoir 'Kicking and Dreaming: A Story of Heart, Soul and Rock & Roll' by Ann Wilson and Nancy Wilson (Released Sep 18, 2012).
.