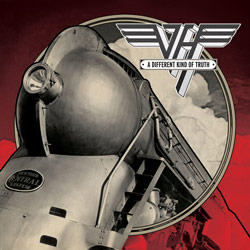 From Russ Weakland at HollywoodLife.com:
Van Halen is set to rock the Staples Center on June 1 in what can only be described as breathtaking. Do yourselves a favor and get tickets now!
This years Van Halen tour in support of their fantastic album, "A Different Kind Of Truth" hits the Staples Center both on June 1st and the 9th. And if its anything like last week at the MGM Grand or the three other times I have seen them this year, it is what a tour is all about!
So first things first, forget about all the talk of dissension between the band members, I for one have never seen Eddie Van Halen more happy, he continues to have the biggest smile on his face for the entire 2 plus hour show. And David Lee Roth is the ultimate front man, telling jokes, doing karate and rocking out in a way that only David Lee Roth can rock! Add bassist Wolfgang and drummer Alex and you have the iconic band that has given you such hits as, "Jump", "I'll Wait" and so much more! You will not be disappointed!
They have wonderful chemistry and a genuine good time with each other on stage that rubs off to the fans in attendance. It is a captivating and fun experience for those that are both young and old. This is a great concert for everyone in the family as Rock & Roll should always be!
And as an added bonus, the iconic Kool & The Gang opens for Van Halen. You'll be very surprised how that all works out. There is often a hesitation in the crowd that wants Van Halen to hit the stage but once Kool & The Gang complete their set you are happy you joined the ride. So don't be late LA!
So HollywoodLifers, Have you seen the show yet, will you be going this weekend or next? If you don't you will indeed miss one of the best live shows of your life! And if you have seen the tour, sound off below on your thoughts on the experience!