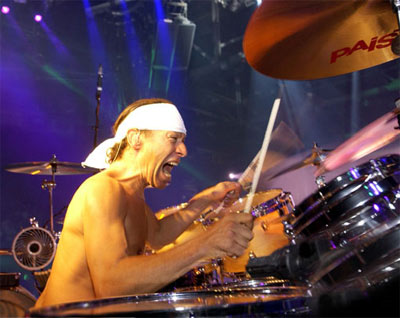 From Yahoo.com:
Ten Legendary Rock Drummers
Posted Thu Nov 13, 2008 1:13pm PST by Rob O'Connor in List Of The Day
Mitch Mitchell, the last surviving member of the Jimi Hendrix Experience, has exited stage left, right or wherever. Just received the news and no determination of death has been made. However, he was only 61. Which is ancient in rock years, but to normal people would be considered quite young. The rock world is often not kind to its participants.
But immediately it made me think about legendary rock drummers. These days most drummers keep time. They play to "click tracks" in the studio and nothing much really happens. But there was a time when the drummer seemed to lead the band. And leading a band when you've got Jimi Hendrix on guitar is a pretty hefty assignment.
The following 10 are the ones who quickly came to mind. Like a speed round without second guessing, I made this list (damn left off Ginger Baker and John Densmore). And the list could not include R&B drummers, otherwise Al Jackson and a very different list would occur. It couldn't include guys who were mostly session guys–so Steve Gadd and Jim Keltner were nixed. And they really had to be folks where the band wouldn't be the same without them–and in the case of the Who aren't.
They're not even necessarily the "best" drummers, though I'd argue that greatness is not technically facility but being the right person for the job.
Here are my 10 (which means I left out at least 30 great possibles). Fire away!
10) Neil Peart–Rush
9) Bill Bruford–Yes, King Crimson
8 ) Bill Ward–Black Sabbath
7) Alex Van Halen–Van Halen: If you listen to the Fair Warning album, for starters, you'll hear a rhythm section that is miles ahead of the hard rock-heavy metal competition. Alex is the closest hard rock has ever come to an R&B drummer, playing behind the beat, ahead of the beat and sometime on top of it. Controlled chaos or pure chaos? In either case, another guy with too many actual drums on stage. But what did he care? He let the roadies carry them.
6) Maureen Tucker–The Velvet Underground
5) Ringo Starr–The Beatles
4) Charlie Watts–The Rolling Stones
3) John Bonham–Led Zeppelin
2) Mitch Mitchell–Jimi Hendrix Experience
1) Keith Moon–The Who